April 2006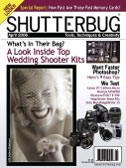 April 2006
On the Cover
Ever wonder what's inside a pro's camera bag? Well, wonder no more as we look in four top wedding shooters' kits. Want faster Photoshop? If so, we have nine easy tips to speed up your processing time. And while on the subject of speed, be sure to check out our special report on memory cards: we reveal how fast those "fast" cards really are and what we found might surprise you.

TOOLS
40 Digital Innovations
The Dog Ate My Homework...
by Joe Farace
44 Studio Supplies
Studio Accessories
by Robert E. Mayer
54 Pro Gear
What's In Their Bag?
by Steve Bedell
68 Test Report: Software
DCF Full Spectrum
by George Schaub
70 Test Report: Digital Capture
Roundup: Memory Cards And
Data Transfer Accessories
by Peter K. Burian
80 Test Report: Lens
Canon's EF-S 60mm f/2.8 Macro USM Lens
by Jack Neubart
86 Test Report: Medium Format
Mamiya's 645AFDII
by Steve Anchell
94 Test Report:
Rangefinder 35mm
Voigtländer's Bessa R3A
by Roger W. Hicks and Frances E. Schultz
102 Test Report: Digital Camera
Olympus' EVOLT E-500
by Peter K. Burian
110 Test Report: Rangefinder 35mm
The New Zeiss Ikon Rangefinder 35
by Roger W. Hicks and Frances E. Schultz
150 Point Of View
How Fast Is YOUR Memory Card?
by Mark Leathem
152 Street Smarts
The Savvy Consumer's Guide To
Pre-Owned, Collectible, And
Vintage Cameras
by Jason Schneider

TECHNIQUES
24 Business Trends
Are There Digital Photography Clients?
by Maria Piscopo
28 Master Class
On The Road
by Monte Zucker
46 Digital Darkroom
Faster Photoshop, Free
by Phillip Andrews
58 Digital Darkroom
Camera Raw Workflow
by David B. Brooks

CREATIVITY

14 Picture This!
Monthly Photo Assignment
by The Editors
20 Student Union
Profiles Of The Up And Coming
by Jay McCabe
22 Web Profiles
Great Photo Sites Reviewed
by Joe Farace
34 Passport
Green Day
by Jack Hollingsworth
51 Digital Darkroom
Digital Capture Input: "Alternative" Output
by Rainer Wenzl
156 Books & DVDs
Up To Speed With Adobe's Photoshop CS2
by Howard Millard
194 One Final Thought
Looking Down At A Fairy Tale
by Lana Lambert Macko

DEPARTMENTS

172 Contests
184 Digital Help
10 Editor's Notes
189 Help!
38 News & Notes
165 Trade Shows
165 Workshops

LATEST VIDEO

SPONSORED VIDEO
Testing Tamron's SP 150-60mm G2 lens while capturing birds and alligators in Apalachicola, Florida.