Anthropics Technology's Portrait Professional 8 Software; Retouching Can Be Fun! Page 2
The "Master" control for each section, such as "Face Sculpt" or "Skin," will move several sliders at once in concert, or you may choose to use the individual sliders like Jaw, Nose, or Neck, and even
sub-sliders for things like eyes, eyebrow shape, etc. I found these to be very helpful. Many people have one eye smaller than the other and I get asked all the time to fix it in Photoshop, which usually involves making a new layer, circling the eye, and playing with the "Bloat" tool until you get it right. It's much simpler here as you can watch what you're doing and just use sliders until the eyes match. Crooked eyebrows are also an easy fix.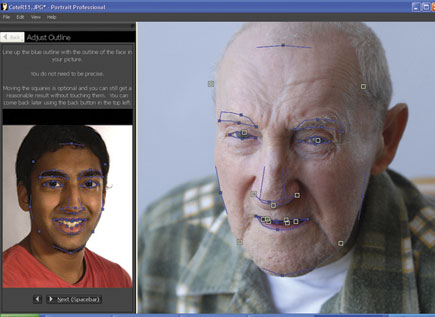 The software seems to prefer a "straight on" face—it has a more difficult time with a 2⁄3 view, even suggesting to me that perhaps this face wasn't human! It made significant changes to his face in the default mode. (Model: Robert Cote.)
Some of the more interesting controls are the "Tan" controls, which I found actually work quite well and can make your subject look like they just stepped off the jet from Acapulco. There are even buttons that let you change eye color. Another interesting section is the "Touchup" and "Skin Area" brushes. I instinctively used the bracket key shortcut to control brush size like in Photoshop, and surprise, it worked! I also like the way it uses a brush to define certain areas, like the hair. It works like masking, but you just "paint" on the area you're working on and then go back to the sliders to adjust it to where you want. The section on eye control is very useful for brightening and/or sharpening them to get them just where you want them to be.

The final sections are the "Lighting" and "Picture" controls. While I of course believe that you should get it right in the camera, it's nice to have little tweaks available to you. I found the Contrast sliders to be the most useful; on the other hand, the Relight control sounds interesting but wasn't very useful. Perhaps some sort of histogram built into the program would make sense.
Notice how in addition to smoothing the skin and making "corrections" the eyes have also been brightened. PP8 also has a very useful button for brightening teeth.
PP8 is easy to use and can do many routine portrait retouching tasks very quickly. By taking the time to set the defaults to your liking, you can save many hours of time you might have spent in Photoshop. The $119.95 price for the Studio version is so low you may not consider it a professional tool, but after using it for sometime it is easy to see how to incorporate it into your workflow. The standard version is only $79.95 and should be considered by non-pros or occasional users. For doing single person portraits that are 3⁄4 length or closer, it's a speedy tool. For full-length and multiple people portraits, use Photoshop. I'd suggest PP8 look into multiple subject portraits and a built-in histogram as improvements for future versions.

PP8 is available for download from Anthropics Technology at: www.portraitprofessional.com.
Steve Bedell has been a portrait photographer for over 25 years. To subscribe to EPhoto, a free e-mail newsletter with tips for photographers, contact Bedell at sb@stevebedell.com. Also ask about his lighting DVDs.

FEATURED VIDEO