Aleratec's 1:3 DVD/CD Tower Publisher HLS; Pro-Quality Disc Duping And Label Printing Page 2
Installation And Interface
As with any label printing, additional software is needed. And all the printing must be done from your computer. The tower comes with bundled software for this purpose--for Windows. Installing the software suite was a breeze. The Roxio software takes care of disc burning, while the Acoustica application handles LightScribe laser imprinting. Mac software is available online at www.lightscribe.com. The Mac label printer is a no-frills application. There are also additional graphics that can be downloaded from this website.

Installing the hardware could be instantaneous or not, depending on your machine. While the Aleratec LightScribe tower offers plug-and-play compatibility via high-speed USB 2.0 (cable included), that feature was best supported on my Intel iMac, whereas my Windows XP machine had to undergo some machinations to get going. And once installed on a Windows machine, Windows wants to install the drivers again each time you turn the Aleratec unit on or plug it into the computer's USB port--now that can become trying over time! Just say no when the driver install dialog pops up.

Unlike other external duplicating towers that operate wholly independently of the computer, the Aleratec 1:3 has few buttons and lacks any LCD panel, although it does sport several LED indicators. Essentially, there's the on/off button and one eject button per tray. A very simple interface indeed! And, aside from laser imprinting, it operates just like any CD/DVD drive. Except that now I can use one drive to install a program, a second drive to listen to music, and a third drive to burn a disc--all at the same time.

From the front, the tower is even smaller than my Epson PictureMate Zoom, but its footprint extends out back to almost twice the length of the 4x6 printer. On the back of this AC-operated unit is the high-speed USB 2.0 port. There is also what appears to be a set of RCA audio output jacks, although not mentioned in the documentation (which is sparse). Tech support wasn't too clear on the use of this audio connection, and frankly it seems superfluous, since all audio is driven through computer software anyway. The last thing you need is more wires and speakers.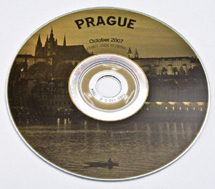 While the process of laser-etching a graphic image can be time-consuming, the end result has a quiet, professional look. Color is great, but there is something especially appealing about a monochromatic image.
In Operation
The process is popularly referred to as "Burn, Flip, Burn." Think of it as flipping pancakes when one side is done. For starters, the correct (writable) side must be inserted in the drive tray facing downward. The disc-writing side has that traditional sparkly surface, whereas the LightScribe side is tinted, with a dulled finish. When done with one process (laser-etching or burning data), flip the disc over and proceed to the next step--for each applicable drive.

My experience began with designing a label in the Acoustica software. The bundled Acoustica program immediately recognizes the drive and features a LightScribe icon to simplify the printing process. It doesn't matter if you imprint the label first or burn the disc first. While the included Roxio software can print CD labels, it doesn't support LightScribe directly. Use it primarily for copying/burning the CD (select the "Copy" module when simply duplicating discs--other modules are tailored for backup, audio and DVD mastering, and more). (Please be aware of copyright restrictions when doing this--it may be unlawful to copy a CD or DVD that is rights-protected.) Acoustica will also produce CD/DVD inserts.

I chose to copy a CD with my own original music, since it was already on disc. My next task would be to burn a CD with images culled from the hard drive. By the way, if you indicate the wrong drive, if there's a non-writable disc in the drive, or if you ask for a disc-write or label printing when the disc is facing the wrong way, the machine will stop the process and advise you of the error.

My initial experience taught me to select the best settings, and to use an image with punchier contrast for better output. One setting is made in the LightScribe driver; the other in Acoustica.

After producing one LightScribe label, I realized that I forgot to add a credit line for the photo. So I added the text in the Acoustica software and reprinted.

Unfortunately, the process took just as long as the original label imprinting. On the plus side, perfect alignment was maintained thanks to a bar code embedded into the CD (around the hub).

When all is said and done, I was rewarded by the understated yet classy look of the CD. So when I send my discs around to stock houses or promote my electronic music, I can do so with an air of confidence at having produced something that reflects a professional attitude.
Technical Specifications
Recording Formats: DVD-RAM, DVD+R, DVD+R DL, DVD+RW, DVD-R, DVD-R DL, DVD-RW, CD-R, CD-RW
Disc Labeling--DVD/CD: LightScribe-compatible media
Data Writing Speed: DVD±R 20x, DVD±R DL 8x, DVD-RAM 12x, DVD+RW 8x, DVD-RW 6x, CD-R 48x, CD-RW 32x
Data Reading Speed: DVD-ROM 16x, CD-ROM 48x
Interface Type: USB 2.0
Power Requirements: Switchable 100-240 VAC
Platform: Windows or Mac
Price: $479

For more information, contact Aleratec, 9851 Owensmouth Ave., Chatsworth, CA 91311; (866) 882-5372; www.aleratec.com.