Affordable Image Editing Options; There's More Than One Way To Work On Your Photos Page 2
The most noticeable difference in Corel Paint Shop Pro PHOTO X2 versus other editors is its deep gray "Graphite Workspace Theme." Paint Shop Pro PHOTO X2 offers an Express Lab, similar to PhotoImpact's Express Fix mode, for making quick changes to images. Paint Shop Pro PHOTO X2 also features Photoshop styled Adjustment Layers, in categories including Brightness/Contrast, Color Balance, Curves, Levels, and Hue/Saturation/Lightness. Adjustment Layers are unique in that they allow you to experiment with various changes in a nondestructive manner; if you decide later that you don't like the adjustment layer's changes, simply turn off its visibility, and the original layer remains unchanged. Paint Shop Pro also offers a variety of JPEG subsampling options, although I'd like to see the naming conventions be as clear as those used in PhotoImpact.

MSRP: Full version: $89.99, upgrade $54.99.
Serif PhotoPlus X2
Serif's PhotoPlus X2 presents itself as a bit of a cross between Ulead PhotoImpact and Corel Paint Shop Pro PHOTO X2: The interface looks like PhotoImpact's, and it seems to follow Corel's bizarre new naming convention. Unfortunately, there's no downloadable demo version of Serif PhotoPlus X2 available, something that I'm at a loss to explain.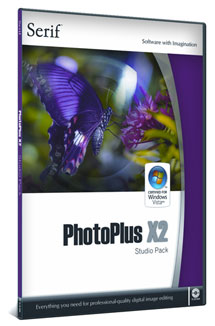 Serif PhotoPlus X2 supports Layers and Plug-ins, but in my random testing of plug-ins, its support did not seem as complete as the other programs I tested. PhotoPlus X2 does support adjustment layers, with filters similar to those found in Paint Shop Pro. PhotoPlus X2 also offers "Instant Effects," which are very similar to "Styles" in Photoshop or the "Easy Palette" in PhotoImpact. Although there was nothing wrong with Serif PhotoPlus X2, there was also nothing in it that really caught my eye as setting it apart from other photo editors in the same price range. And, there are no JPEG subsampling options, something that I always find disappointing.

MSRP: Full version: $79.99. Upgrades are available, you must contact Serif for pricing.
Paint.NET
Paint.NET is a unique addition to the field of Photoshop competitors. The ".NET" part of the name comes from the Microsoft .Net Framework on which the program is built. As someone who takes an occasional programming class, I'm not sure if I'd be bragging about using the .Net Framework, or trying to keep it quiet; but in this case, it really did work out well. The program is fast, stable, and remarkably small. If you already have the .Net 2.0 Framework installed (most Windows XP and Vista users do), the program download is only 1.6MB. That's good, but here's the best part: The program is an open source development project, and is completely free of charge.
Paint.NET supports Photoshop styled layers and alpha transparency, but there is no support for directly converting selection masks into layers. Due to Adobe's licensing cost, there is no support for Photoshop plug-ins, but plug-ins have been designed specifically for Paint.NET and are available on the Paint.NET website forum. The program does support all of the functions needed for basic photo editing. The toolbox includes selection, cloning (rubber stamping), and color replacement tools. The Adjustments menu contains eight selections, including Brightness and Contrast and Hue/Saturation/Lightness controls, plus a Luminosity/RGB Curves Control, and a Levels Histogram. The Effects menu includes Gaussian, Radial, and Zoom Blurs, a very effective Sharpen filter, and a Red Eye Removal filter.

MSRP: Open Source and Free.
Contacts
Adobe Systems Inc.
345 Park Avenue
San Jose, CA 95110
800-833-6687
www.adobe.com
Corel Minneapolis
7905 Fuller Rd.
Eden Praire, MN 55344
www.corel.com
Paint.net
www.getpaint.net
Serif Ltd.
The Software Centre
PO Box 2000
Nottingham, NG11 7GW, UK
www.serif.com
Ulead
www.ulead.com