Adobe's Photoshop Elements 8: Windows & Mac; Photoshop Lite, Or Just For Snapshooters? Page 2
Elements 8 offers quite a few new and improved features and functions that provide expanded image control and editing capabilities. Found under the File>New menu, Photomerge offers several variations, including the Exposure function. This Exposure variant is a bit like HDR, allowing the photographer who brackets exposures to combine a couple of them, or to combine a straight shot with one that has a flash fill to obtain a better overall exposure effect. Another, one of my new favorites, is Recompose. Any 35mm photographer who has been exasperated trying to crop an image to fit an 8x10 print can now do so easily and even protect key subject(s) from any lateral distortion. On the humorous side, if you have a digital camera with, say, a 3:4 aspect ratio and you want to print a picture of someone who thinks they are chubby, use Recompose to make the picture a 4x6 and flatter them; it will make the person look taller and thinner. The Smart Brush allows painting on local changes that in the past were only global functions and offers a library of some 50 effects. And, even the Filter menu, which rarely gets enough attention for lots of good stuff, has a new "portrait" enhancing filter that softens smooth areas, like complexions, and keeps eyelashes and eyebrows sharp. I applaud this digital soft-focus portrait lens effect.
The Adjust Sharpness process tool in Elements 8 is really a simplified version of Smart Sharpen in CS, and I found it works as well and is equally as effective.
The Bridge browser in the Mac version of Elements 8 is the same basic Bridge as comes with Photoshop CS4. And it does essentially the same new things as Elements 8 Explorer does on Windows—it's just arranged a little differently. I wish the gray tone background colors of Bridge were also applied to the Elements 8 application!
Many of the improvements for Elements 8 for both Windows and Mac involve the latest operating systems and support for their newest capabilities, as well as the changing web culture like Facebook and Twitter. To be frank, I did not look into this aspect of the program more than superficially. My main interest was how Elements 8's tools compared with those in Photoshop CS4 and how they could be used when doing image color correction and editing. One of the highlights, for example, is found in the Photomerge list, Scene Cleaner. This provides an easy way to renovate an image by removing distracting items, like a road sign.
Recommendations And Conclusions
After working with the program extensively in both Windows and Mac platforms, I have to say that for serious photo enthusiasts I can recommend Elements 8, even if they have Photoshop CS2 or 3. It does the job as well and provides more learning support and greater efficiency than the big CS versions, which to me have many features that are rarely needed by most enthusiasts and are more designed for commercial production and reproduction.
Elements 8's Photomerge offers a lot of possibilities. I pushed the envelope some by using it to blend two different images, taken on the same roll of film, one with a 100mm lens and the other a 400mm, to put a full moon into a colored dusk sky. Interestingly, the process worked better than either of my old previous attempts with copy and paste or using layers to blend the two images. Will it work with other combinations? I haven't tried it yet, but see what you can do.
Surface Blur is one of a long list of filters contained in the application. Essentially it is recommended for portrait pictures because it blurs and softens smooth areas of the image like complexion, while keeping detailed parts like hair and eyelashes sharp, much like some of the better soft-focus portrait lenses of the past. I used it on a picture of the landscape taken in the wake of the volcano of Mount St. Helens when some of the roads were re-opened after the disaster. It really helped the image and enhanced the effect of the atmosphere covering parts of the wreckage.
Elements 8's somewhat simpler set of tools and processes is more than adequate to get good quality from adjustment, color correction, and editing to make an image as good as it can be. Out of dozens of images I tested with the program there was only one photo that resisted improvement, mainly because Elements 8's scale in Hue/Saturation was too small to effect as much selective color adjustment as needed. Otherwise all of the brushes for selection, cleanup, and the processes for color correction and editing adjustments were smooth, refined, and easy to control, and indeed were more refined and enhanced than in the previous version(s) of the program. Even with Adobe Camera Raw to convert digital camera Raw files I didn't see any disadvantage in using the Elements version over the Photoshop CS version, although CS offers a lot more correction capabilities. However, I find that I rarely need to use those extra features.

In short, Version 8 is better than ever. I will definitely keep Adobe's Photoshop Elements 8 at the top of my list for a digital photo application that provides all of the essential tools and a lot more at a very affordable price ($99.99). In addition, the learning and guided support makes Elements the best serious photo application for someone new to digital photography to use to learn and grow into an effective understanding and control of the medium. One suggestion: I would like to see Adobe provide a better and lighter gray tone background preference choice with more readable process windows and control dialogs.
A couple of the image storage CDs I wanted to use were old Kodak Photo CDs. In the past I could open them with an Adobe application, but that support is now missing in Photoshop. However, Apple's iPhoto does open Kodak Photo CD image files and converts them to JPEGs. That's OK but not the best option. So I used LaserSoft's SilverFast HDR and converted the Kodak Photo CD files to TIFFs and put the files on my desktop to use for this Elements 8 test work.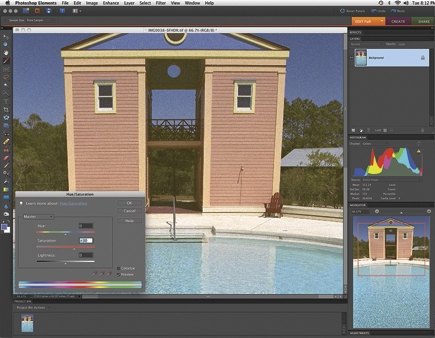 Although the Raw Kodak Photo CD files were rather off-color when first opened in Elements 8, they were easily color corrected and edited to finely represent the subject with just a little work.
Adobe started this process of providing an intermediate digital photography application with built-in learning and guided processing quite a while ago, and it has been 15 years since I tested and reported on that first PhotoDeluxe. Ever since, Adobe has learned from their own experience and that of users and has now made Elements 8 even more effective. It is definitely the best place to start with doing digital photography work with a computer, and now allows a great range of growth and individualized paths of diversity. Anyone who masters all that Adobe's Photoshop Elements 8 has to offer will have acquired substantial skill as a digital photographer.

For more information, contact Adobe Systems Inc. at: www.adobe.com.
David Brooks can be reached via e-mail at: goofotografx@gmail.com.

FEATURED VIDEO