The 5 Best (Selling) Photo Bags & Cases on Amazon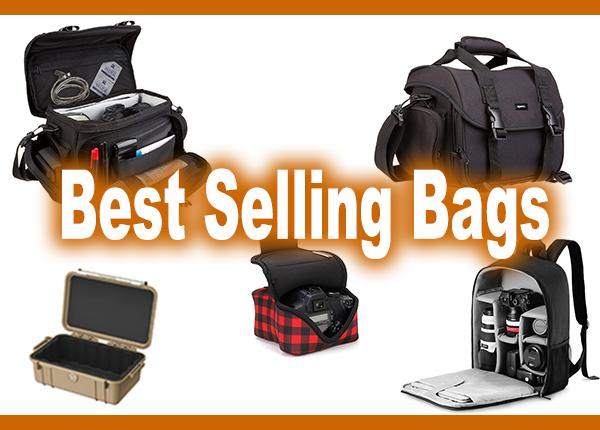 We're amazed by the wide variety and overall affordability of the camera cases and bags that have earned their place among the Best Sellers on the Amazon website. All have been rated at 5 (or 4.5) stars by purchasers, and they cover a broad array of purposes—from Drone to DSLR. So we've selected a cross-section—all priced under $30—to represent the collection.
Which camera bag you use is determined in large part, of course, by the equipment you wish to carry. But other factors like appearance, size and cost are important considerations too. For more generic shopping advice and our handy 10-point camera bag evaluation system, read our article from last summer, How to Buy a Camera Bag.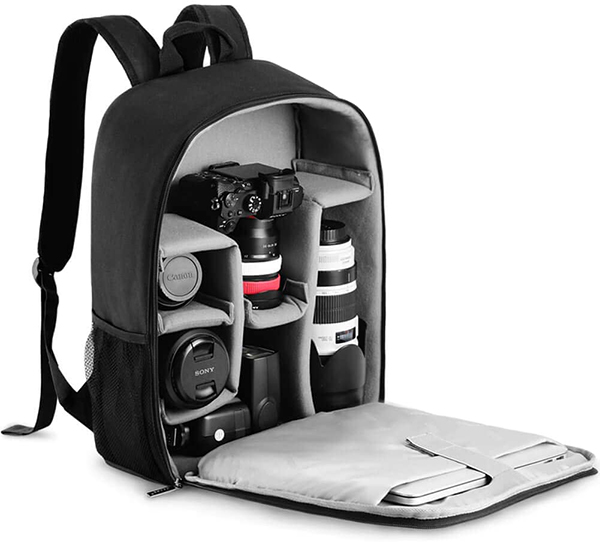 CADeN Camera Backpack with Laptop Compartment
Currently holding down the top spot as #1 seller, and measuring a trim 17.3 x 12.6 x 6.3 inches, the CADeN camera backpack accommodates one camera body, up to four lenses and a 15.6-inch laptop computer. That makes it a great choice for students and commuters as well as active photographers.
Mesh pouch-pockets on either side hold a water bottle or umbrella, and there's a special place on the bottom where a small tripod or collapsed trekking pole can be lashed. The exterior is waterproof 900 denier poly-nylon and all inside padding is made of seven-layer protective foam. Overall styling is covert classic, basic black with slim lines and sleek shape.
Amazon Best Selling Price $27.99 ($41.99 for Large version)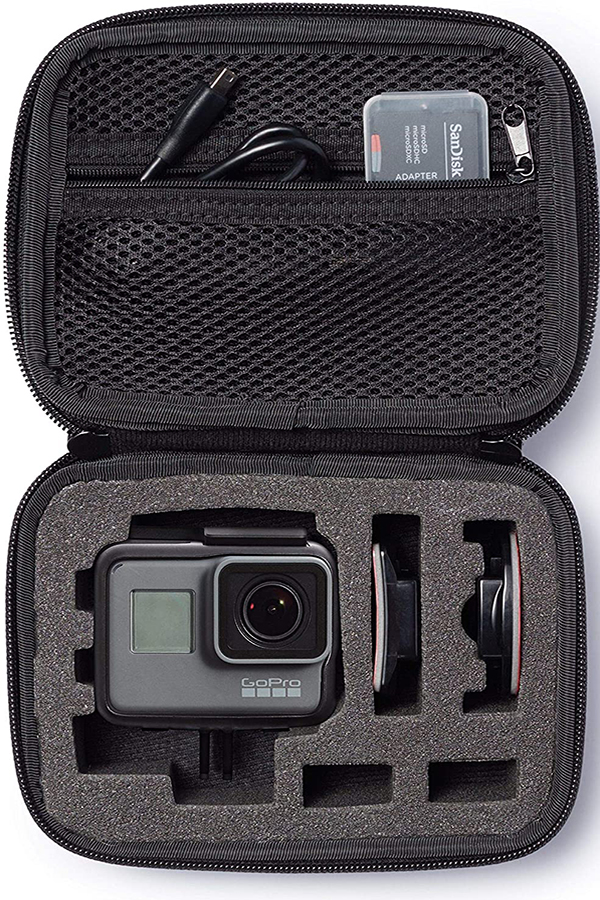 AmazonBasics Extra-Small GoPro Case
Because GoPro owners never get enough love, Amazon offers the 6.5 x 5 x 2.5 inch extra-small drone/accessory case that's compatible with all GoPro cameras including GoPro HERO6, GoPro HERO5 Black, HERO5 Session, HERO4 Black, HERO4 Silver and HERO Session.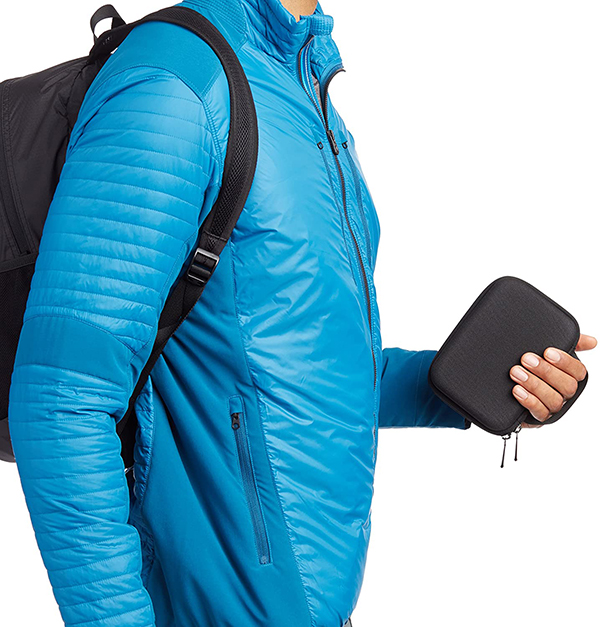 Foam padding with pre-cut slots hold your gear in place and provide superb protection.
Amazon Best Selling Price $11.99 ($17.99 for Large version)
Pelican 1050 Micro Case
Watertight for the worst weather conditions (IP67 tested) and ideal to protect a smartphone, GoPro, camera or other gear during a sloppy-wet rafting trip, the Pelican 1050 will survive full submersion under one meter of water for up to 30 minutes. Includes automatic pressure equalization valve designed to balance interior pressure to keep water out.
Made by world renowned Pelican, the 1050 is crushproof, dustproof and includes a rubber liner for extra protection that doubles as an O-ring seal. Measures 6.3 x 3.7 x 2.75 inches inside and 7.5 x 5 x 3 inches overall. Made in USA and includes a Lifetime USA Limited Warranty.
Amazon Best Selling Price $23.95 (Other styles/sizes available)
AmazonBasics Large DSLR Camera Shoulder Bag
Available in black with either gray or orange interior, Amazon's traditional camera bag measures 12 x 7 x 9 inches (exterior) and will hold one camera and up to three lenses.
Includes storage slot for smart tablet. By the way, the orange interior makes it easier to find small accessories, even in dim light. And orange is very cool.
Amazon Best Selling Price $25.95 (Other styles available)
USA Gear SLR Camera Sleeve
Years ago, many Leica owners used leather Benser Bags to protect their cameras. Sadly, Benser Bags are no longer on the scene but the same notion is embodied in the USA Gear camera sleeve. Made of protective, form-fitting neoprene, this soft case works in conjunction with your existing camera strap and covers your camera body and lens.
Easy to remove, the camera sleeve includes a zippered accessory pocket and measures 6.5 x 6.25 x 3 inches (inside). Available in a startling variety of colors and patterns, and backed by three year USA Limited Warranty.
Amazon Best Selling Price $14.99 (Many colors available)
—Jon Sienkiewicz
(As an Amazon Associate, Shutterbug earns from qualifying purchases linked in this story.)

FEATURED VIDEO