8 Great Flash Brackets: Photo Accessory Round-Up Review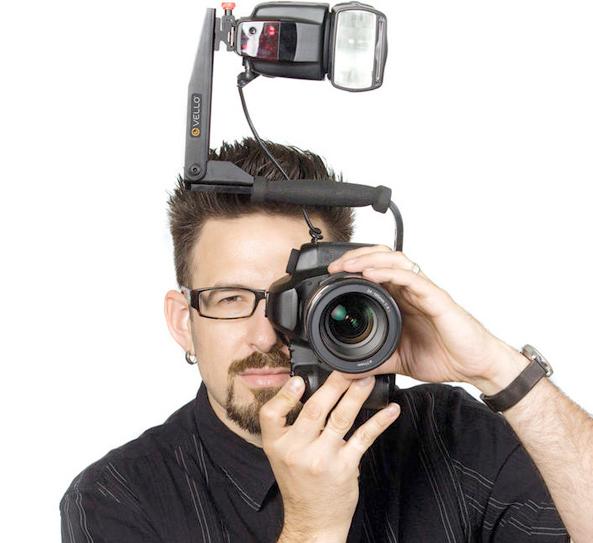 If you read our story on "7 Reasons You Still Need a Flash Bracket for Photography," perhaps you've decided it's time to purchase one of these photography workhorses.
Here are our recommendations for 8 Great Flash Brackets to help you achieve studio-quality lighting on the fly.
1) Stroboframe PRO-RL Bracket
Widely used by working pros, this robust unit lets you rotate your camera instantly from horizontal to vertical with a flick of the wrist, as the flash remains centered over the lens. A fingertip-actuated lock secures the camera-rotating system in horizontal position.
Other features: One-handed instant flash height adjustment to between 11 and 18 inches above the lens, exclusive one-hand TiltTrigger lets you set the angle of the flash to any one of 12 click-stopped positions, unique "kickstand" pivots out of the way to safely support the bracket when you set it on a table or floor, and an integral Quick Release (QR) plate with optional QE Receiver allows the bracket to be instantly detached from a tripod. Weight: 33 ounces.
Street price: $129.95
2) Wimberley Combo 3 Telephoto + Macro Flash Bracket
This ingenious and versatile portable modular flash bracket system allows the components to be connected in various configurations without tools. Parts are captive to prevent detaching or unscrewing in the field and they provide macro adjustment and allow you to attach a lens via the tripod collar using an Arca-Swiss-type quick release.
In addition you can extend the flash forward or to the side of the lens as well as adjust the vertical distance between the lens and the flash unit—great for shooting wildlife from a blind. This well made, ingenious system is designed for easy stowage in a small space and has a total weight of only 1.30 pounds.
Street price: $298.95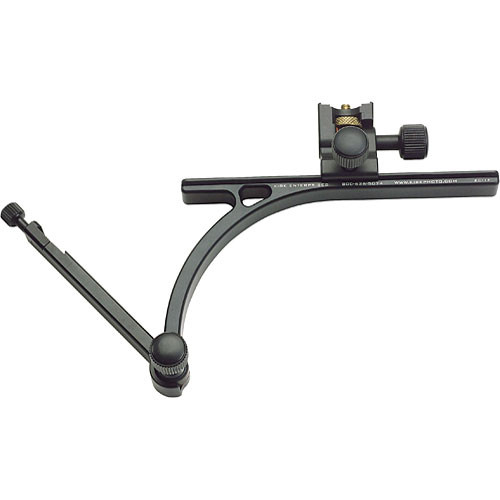 3) Kirk KC-1F Cobra Flash Bracket
Designed to provide a flexible lighting solution when using a side-mounted lens on a gimbal head, this well-designed bracket connects to a replacement Kirk lens plate that's mounted to the lens collar socket. Once it's secured you can glide the flash along a horizontal rail to achieve direct or off-center positioning, resulting is a wider range of lighting options and quick, seamless operation in the field. The vertical arm is hinged to swing out of the way when not needed or to be folded for convenient storage.
The unit includes a KC-1FP quick release plate to allow for quick and easy adjustable positions. Precision made of rugged 6061T6 anodized aluminum it employs stainless steel screw throughout for enhanced durability.
Street price: $179.95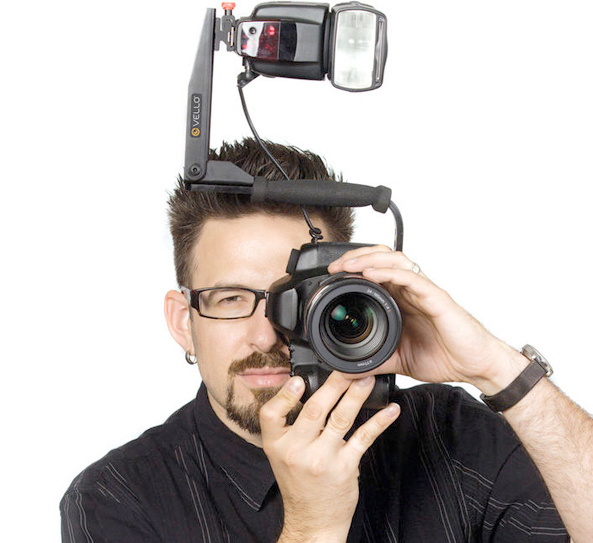 4) Vello QuickDraw Rotating Flash Bracket
This straightforward, economical unit positions your flash unit well above the camera's lens axis and can quickly and smoothly rotate the flash as you switch from horizontal to vertical shooting mode, eliminating side shadows and providing balanced, even illumination. Five mounting holes on the camera platform accept cameras having a wide variety of sizes and shapes and holds them in position with a simple and effective mounting knob. A red knob attaches the flash unit to the bracket's accessory shoe, which can be positioned in two positions or removed to accommodate Nikon SC-29 and other off-shoe camera cords.
The flash arm rotates 180 degrees for a smooth and easy flip, and a padded grip aids comfort for long shooting sessions. The QuckDraw features sturdy lightweight aluminum construction and a locking mount for tripod use.
Street price: $19.95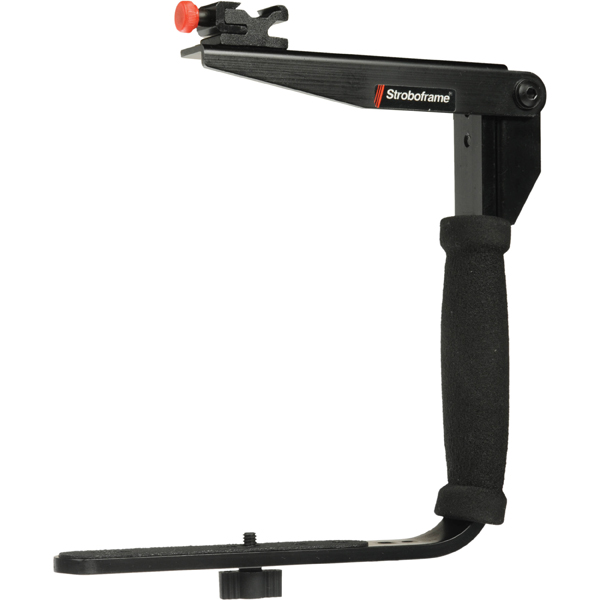 5) Stroboframe Quick Flip 350 Bracket
This economical flash-rotating bracket combines, compact size, light weight, and fast handling. (Yes, there's a reason it's one of the best selling flash brackets on the market.) Despite being lower priced than top-of-the-line Stroboframe units, it provides the same high quality materials and construction, and it accepts all 35mm-sized DSLRs except those with large motor drives or battery packs. The Quick Flip 350 weighs 10 ounces, provides a maximum bracket height of 9.5 inches, and a nominal lens-to-flash distance of 12 inches, and includes a shoe mount.
Street price: $18.59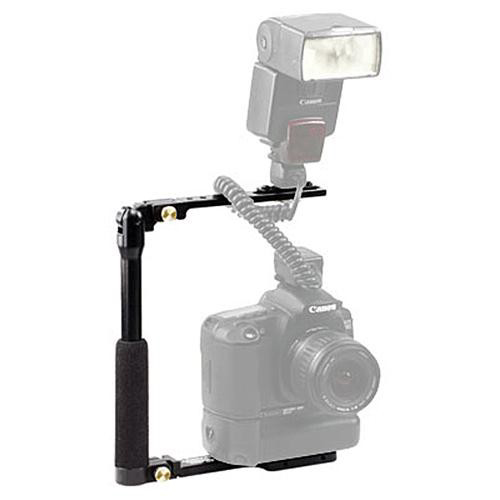 6) Custom Brackets Folding-T Flash Bracket
Conceptually simple and elegant, this taller-than-average bracket allows larger cameras to be accessorized with off-camera flash units. Because of its basic "C" shape it can be mounted to either the right or left side of the camera depending on which position is most comfortable for the user, and it holds the flash unit 11 inches above the lens. Other features: soft foam grip, anodized aluminum construction, and a folding design that enhances portability and easy storage. The Folding-T weight 13.3 ounces and folds to a compact 10 x 2-1/4 x 1-7/8 inches.
Street price: $79.95
7) Stroboframe Digital Pro T Bracket
This sturdy, popular bracket has a flash arm that swings to keep the flash centered above the lens when the camera is held in a horizontal or vertical shooting position, and it doesn't require a cable release. The top surface of the camera mount has a precision machined cross-sectional recess covered by a dense textured rubber material, providing an ultra-thin barrier that protects your camera and grips it securely to prevent twisting. No anti-twist camera plates are required, and the new ergonomic flash-height-adjuster knob allows height adjustments up to 10-3/4 inches for a nominal lens-to-flash distance up to 12 inches. Other key features: convenient foldaway kickstand, solid aircraft grade T6061 aluminum construction. Weight: 14 ounces.
Street price: $74.95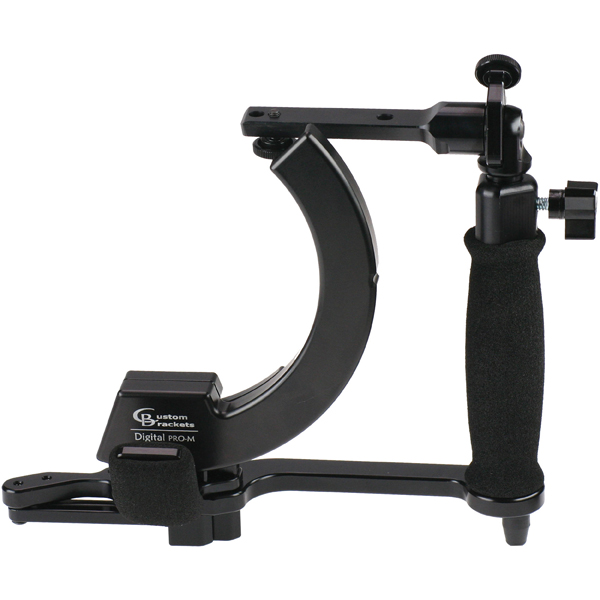 8) Custom Brackets Digital PRO-M Rotating Bracket Kit
Optimized for use with DSLR camera systems, this bracket kit's unique rotation system turns the camera around the center of the lens axis, allowing you to lock it in the vertical or horizontal position or anywhere in between! The kit includes the CMP universal camera mounting plate, the FCM+N flash mounting plate for Canon/Nikon off-camera flash cords, and the QR quick release for mounting it on a tripod use.
Other features: Lifetime lubricated roller bearing rotation system, upright stance when fold-in legs are deployed, vertical flash-height adjustment with ergonomic knob-type lock, left-hand grip, robust anodized black aluminum construction. The Pro-M bracket weights 20 ounces and folds to 7.9 x 10 x 2.4 inches for easy storage.
Street price: $365

FEATURED VIDEO