Holiday Greetings From Daisy Hill: This Year, Santa's Sack Holds Websites And Blogs
"He felt that his whole life was some kind of dream and he sometimes wondered whose it was and whether they were enjoying it."—Douglas Adams
I want to extend holiday greetings to Shutterbug readers during this special time of the year. While the sites and blog presented this month do not have an overall theme—holiday or otherwise—they represent the work of talented photographers who are using the Internet to communicate and display their work. These sites come to me in many ways: sometimes a site is recommended by a reader, other times by the photographer themselves, but most times through research. This month I've expanded my search tools to include photographers who are following me on Twitter (www.twitter.com/joefarace), where every Monday through Friday I pass along tips, tools, and techniques that will hopefully improve your photographs. This is all done in the same spirit of giving that pervades this time of year but is offered by me on Twitter throughout the year.
www.scottholsteinphoto.com
Floridian Scott Holstein specializes in environmental portraits, lifestyle, and editorial photography and his deceptively straightforward but effective website contains a Portfolio of three collections, including Environmental Portraits, Photojournalism, and Tearsheets. This is a guy who has a real handle on light and his Environmental Portraits collection contains many photographs where lighting and composition have been perfectly orchestrated to create colorful, dynamic images of people in their surroundings. A simple portrait of a man with his boat becomes a Technicolor spectacular with Gone with the Wind lighting for what is essentially a peaceful picture, but Holstein's control over the natural and artificial lighting move the photograph way beyond a simple environmental portrait. We've all made pictures of pretty girls with a graffiti wall behind them but nobody has done it with as much energy as Holstein.
His Photojournalism collection showcases colorful sports action before shifting to quiet seascapes then changing gears once more to the kind of gritty photojournalistic shots found when National Geographic tackles contemporary society. Holstein's Tearsheets are impressive and son of a gun if he didn't shoot a wraparound cover photo of the Batmobile for the Tallahassee Visitor's Guide! Scott Holstein is a consummate professional who has mastered his craft and has the creativity to take his skills and produce images with color and energy while never losing sight of who the subject is and what that portrait represents.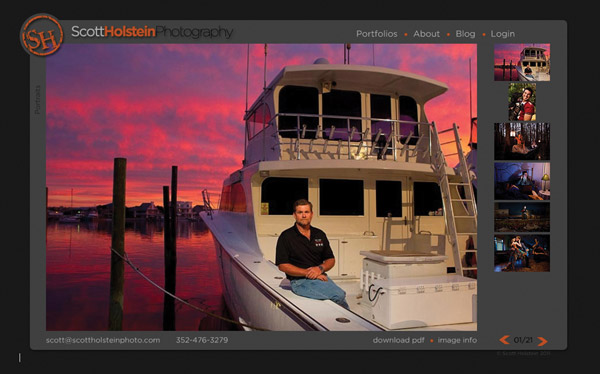 http://aaronjsinger.com
The Shutterbug reader's website this month is from Aaron J. Singer. American architect Louis Sullivan once coined the phrase "form follows function" and nowhere is that more true than on Singer's homepage, which is powered by SimpleViewer (www.simpleviewer.net/simpleviewer), a free, customizable image gallery that allows you to display your images on any web page in a professional and intuitive way. There's no muss, no fuss, just simple access to Singer's quiet yet dramatic look at Americana as seen though its textures, graphics, and ephemera that many people just walk right past, but fortunately Singer has stopped and carefully composed images that make you look and think.
He shoots in both color and monochrome and while I think his black-and-white images are spectacular, the color photographs are worth a look as well. Some, as in the "Bowl" image, are so subtly crafted that, while shot in color, the overall impression is monochrome, giving the photograph even more power. His color images of rust and texture mirror some of the great still life images of Minor White—except in color. Aaron J. Singer's photography is a reminder that sometimes you don't have to hit the viewer over the head with a hammer to get their attention when a gentle nudge will do.
www.missaniela.com
Miss Aniela a.k.a. Natalie Dybisz is the British Flickr sensation and author of Self-Portrait Photography: The Ultimate in Personal Expression (pixiq) and if you don't already have a copy of this book, buy one and get another to give as a holiday gift. Miss Aniela's self-portraits redefine the genre, raising it from its humble origins to a dazzling art form. (Nudity advisory: This site contains a few examples of tasteful nudity. If this offends you, please do not visit.) Start by looking at the Self-Gazing collection and you will be astonished at the styling and creative reach of the photographs that would be amazing even if they weren't self-portraits. The fact that they are makes them all the more remarkable.
Harold Ramis's film Multiplicity may just be a so-so movie but in Miss Aniela's Multiplicity collection she's multiplied herself in off-the-chart images that are as extraordinary as, and maybe more so, her self-portraits. The highlight of all Miss Aniela's images is her startling use of color and a sense of composition that my friend Lou Jones says, "you either have, or you don't," and she has it along with a level of creativity unmatched in contemporary photography. The Abandoned collection features images made in old weathered building interiors to create self-portraits Miss Aniela-style and, interestingly, her only monochrome image here is the least successful and I think that's because part of her method is the clever use of color. Lest you think this site is all narcissism all the time, the Fashion and other collections found in Portfolio 2 offer her take on using other people as models with similar and (if that's even possible) more breathtaking results. To see Miss Aniela at work, there's a nicely produced video you can watch and enjoy.
http://danrouthphotography.blogspot.com/
This month's Blog-of-the-Month is from North Carolina photographer Dan Routh who uses Blogger (www.blogger.com) as a platform to display his words and images. If there's one word to describe Routh's photography it's "versatility." When I last visited his site (bear in mind that even more so than websites, blogs are living, ever-changing documents) he had images of cow skulls, classic motorcycles, fishing lures, and dramatic shots of people playing cricket. I've always had a soft spot for cricket, even though nobody—even a few Englishmen—has ever been able to explain the rules. His dynamic cricket images make an interesting contrast to his still life images that are executed with extreme precision over composition and lighting.
Unlike some photoblogs that are more words than pictures, Routh's is the opposite and assembles a diverse collection of impeccably crafted images in a linear, chronological format. Oh, there are portraits, too, including images of farmers (he lives on a 150-acre cattle farm) that show an obvious affection for his subjects while wrapped around a stylistic approach that's uniquely Routh's. Yet he applies that same style to a wonderful portrait titled "Bike in the Woods" that's heavily atmospheric, which I guess could be said for all his work. You never get a feeling that he is observing but rather that Dan Routh is part of the scene—unobserved—capturing what Cartier-Bresson called "the Decisive Moment." And what moments they are.