Celebrating Independence Day
"I wanted change and excitement and to shoot off in all directions myself, like the colored arrows from a Fourth of July rocket."—Sylvia Plath
This month marks the anniversary of a column that began in July 1999 as Website of the Month and has evolved into Web Profiles. Along the way, I've tried to include tips and trends to help readers improve their own web-based activities. Take Pinterest (http://pinterest.com), for example. It's a virtual pinboard that lets you organize and share images, among other stuff, with people on the web. It's like Twitter (www.twitter.com) for your photographs! I'm going to give it a try and so should you. In the meantime, I'll continue to seek out new websites, to boldly go…sorry, I got carried away. I try to include at least one Shutterbug reader's site in each episode but I can't always tell that from your site, so click the Contact button on my website, www.joefarace.com, and tell me about it. You could find yourself featured in an upcoming column.
www.jessespeer.com
Jesse Speer's site uses a design from Graph Paper Press (www.graphpaperpress.com) that's contemporary looking, makes excellent use of photography, and has a well-integrated blog that you shouldn't miss. His images are collected in 10 portfolios containing a range of nature and landscape photography, all executed in stunning color and spectacular monochrome. Autumn contains images from the chapters of a book of the same name, running the gamut from the amazing color reflections of "Transient Rhythms" to the pastel look of "Fade to Grey." Clicking any of these chapter headings shows additional photographs from each chapter along with illustrative text.
Bounce into Illumination and you're greeted by threatening skies, large areas of black, and a crispness that adds texture and depth to what are some of the more impressive black-and-white landscapes I've seen since starting this column. The two Landscape portfolios (one color, the other black and white) are traditional in scope but extraordinary in execution. Similarly, the color and monochrome images in the twin Rural portfolios deplete my vocabulary of superlatives to tell you how simply amazing they are. All of the images in these last four collections are breathtaking, showing Speer's ability to take the landscape genre and kick it up more than just a notch into new territories of vision and craftsmanship. Illusions contains what appears to be extreme macro images that are more inner space than outer landscape and that's not surprising. The About section of the site tells you little about Speer; the photographs of him seem deliberately vague, with the text saying more about what he does and why he does it. Jesse Speer obviously prefers that his work speak for him and it does—loud and clear.
www.deonreynolds.com
Nevada's Deon Reynolds is a fine art photographer who captures color images with digital cameras but his black-and-white photographs are made with disposable cameras reloaded with Tri-X film. His work is collected in an elegantly-designed website that's home to several portfolios, including the beautiful monochrome images found in Where the Cowboy Once Roamed that, keeping in mind how he made them, demonstrates that it's vision, not the tools that make a great photographer. Reynolds gives us a nostalgic look at the Western landscape with wistful remnants of old ranch buildings that recall a time and a place surrounded by the fog of myth but are clearly rendered in crisp black and white.
In the photo essay of "The Loneliest Road in America" his monochrome panoramic images occasionally show the hand of man but there are no people in the photographs. Instead we see snowy landscapes, old buildings, and corrals, taking us back in time, while remaining contemporary at the same time. A neat trick, yet Reynolds's craftsmanship pulls it off time after time. In My American West he takes us into John Ford country with brooding landscapes of stormy buttes, sand dunes, and an old church perched on a hill like the beacon it was—or still is. Old cars weathered by time and sand sit like silent sentries in front of a crumbling building, creating a lost mood of a time when outlaws, lawmen, and pioneers tamed the West, or were tamed by it. For modern, color images visit his Industrial blog to see the West of today and even better appreciate Deon Reynolds's immense skill and talent.
www.edwargin.com
Ed Wargin's site embraces a minimalistic yet stylish design that places the focus squarely on the photographs. In addition to an impressive biography that can be found in the About section, Wargin's images are collected in three portfolios and one gallery—The Fresh Coast Series—that also has its own website (www.thefreshcoastproject.com). So if you like the images here, be sure to jump over and look at those photographs as well. And why not? The Fresh Coast Series contrasts strikingly beautiful nature and landscape images that float on the wind between the opposing forces of editorial and art. Sharply crisp images of rocks and wood are contrasted with dreamy images of a waterfall at night or a seagull photographed against waves captured with slow shutter speeds, creating an impressionistic effect.
In the portfolios, named One, Two, and Three, Wargin again looks beyond the obvious, often photographing mundane things, a glove on a snowy sidewalk or reflections of clothes drying on a line, to create images that transcend the subject matter to become tone poems in color. Occasionally people appear in his photographs but more often than not they're used as punctuation marks, although the image of the three people huddling under an umbrella in a storm recalls Ernst Haas in that the shapes and color used in the image are more important than the supposedly "real" subject. In this way, Wargin uses his camera more as a brush than as an optical instrument for capturing reality. Dig into both of Ed Wargin's sites and you will be rewarded with a deeply profound artistic experience.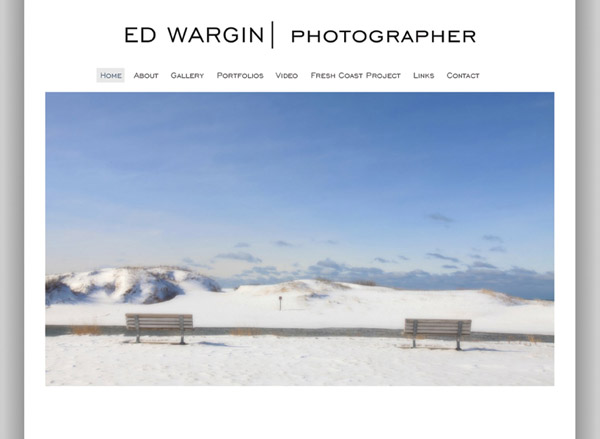 http://justshoot.me
And the winner of the Best URL on the World Wide Web Award is Florida's Michael Lewis Glover. This month's Blog-of-the-Month uses WordPress.com with Ignacio Ricci's (http://ignacioricci.com) Chateau theme. But there's more to Glover's blog than a clever name; it's a perfect blend of outstanding photography with explanatory text. In fact, this is what a great photography blog looks like. And it has built-in extras that expand its capabilities, including links where you can see more of his work, such as his website, www.michaellewisglover.com, and after you finish browsing the blog be sure to visit in order to see the breadth and depth of Glover's work. You can also purchase prints of his amazing HDR imagery.
That skill is on display here with photographs that contain just a hint of HDR ("Dolphin Resort") or over the top in his automobile images ("Let's Go Campin'") that knocked my socks off. But he's also capable of amazingly subtle work, such as the snowy black-and-white image made in Locust Grove, Kentucky. And fireworks? His photograph entitled "Reflections" made during the spectacular fireworks display put on nightly at Disney's Epcot is a lesson on how to make photographs like this and gives all of us a goal to shoot for this Independence Day. Michael Lewis Glover has embraced the technology and vocabulary of High Dynamic Range photography but made it his own with carefully captured and structured images that are full of fun. And isn't that what photography is supposed to be about?

LATEST VIDEO