New Bags From jill-e Designs
The creator of sturdy, stylish camera and carry bags for today's technology-dependent, on-the-go lifestyle is introducing a body-hugging DSLR bag in four trendy colors, matching lens bags, a full-sized jack rolling satchel, and more.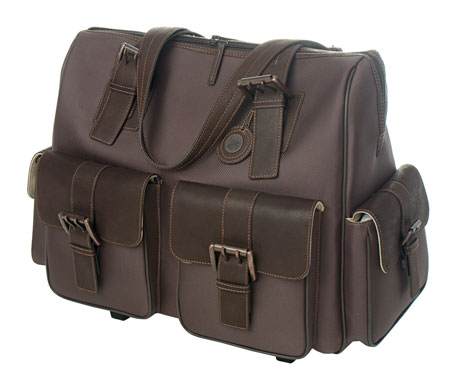 Fully padded and ready to perform in close quarters, the company's lean new Swing Camera / Carryall Bag has room for today's DSLR cameras, loads of accessories and personal belongings – even an iPad. A profile of less than 4 inches and adjustable padded shoulder strap lets the user keep their gear close and secure in a crowd, in the elements, or anywhere.
This innovative new bag is available in attention-getting purple, hot pink and turquoise, as well as black, and features stylish gold accents. Made of high-quality weather-resistant nylon, it comes equipped with a rugged zipper top opening for easy access, configurable Velcro dividers inside and assorted pockets and compartments outside. There's no better way to carry one's consumer electronics safely and in style.
For even more of a good thing, jill-e designs also is introducing a matching lens bag for each of its Swing Camera / Carryall Bags – perfect for bringing a few more lenses or a few more personal belongings. The lens bags are crafted with all the quality and features found in the Swing bags.
jack Rolling Satchel
Combine the unmistakable look of jack bags with the features and functionality of jill-e designs' popular large rolling bag and what do you get? The jack Rolling Satchel. Designed for men, but popular with women as well, this bag is ideal for demanding photo assignments or extended travels – available in a rugged, weather-resistant, leather-trimmed nylon at a very appealing price. Designed for convenience and high performance, the jack™ Rolling Satchel is equipped with sturdy rollers, a telescoping handle and dual carrying handles to transport camera gear and other fragile electronics to the most challenging assignments and through the busiest airports. Padded walls, configurable Velcro dividers and variety of pockets and compartments keep all belongings organized and secure.

LATEST VIDEO