Shutterbug Reader Websites: Our Readers Strut Their Stuff
Thanksgiving Day is celebrated in the United States and Canada, although up North it's the second Monday in October. Other places around the world observe Thanksgiving celebrations as well and I'd like to celebrate it here by thanking the people who make this column possible. Big thanks goes to Editorial Director George Schaub and Managing Editor Andrea Keister, who occasionally suggest sites for the column but mostly just make me look good. A big thank you goes out to all of the magazine's readers for their support over the years. In recent issues I haven't had as many Shutterbug Reader-of-the-Month sites but I'll make up for it this month, starting with…
www.dwphotoworks.com
David Woeller won't be pigeonholed. His photographs are collected in eight galleries whose subject matter is as diverse as his approach to making them. His Birds gallery contains lovingly crafted images of avians, which I've always considered the most difficult photography genre because it presents so many technical and aesthetic challenges. These are small subjects, often in motion, and capturing these images requires patience, specialized gear as well as a good eye. His photograph of a black swan in repose is as poetic as it is realistic. Yet his manipulated image "Feeding Egret" has an otherworldly look, proving the white yin to the swan's black yang.
Woeller's Land and Seascapes gallery shows a masterful use of color and composition whether it's the "East Point Lighthouse" or the monochromatic "Foggy Morning At Dennis Creek." No technical details for the images are provided and the Info button sitting above the stack of thumbnails at screen right merely reveals keywords and categories. That's OK with me. Just as the magician's creed is not to disclose how their tricks are performed, not revealing how images such as "Barnegat Paint By Numbers" were made is part of the magic of enjoying it. When you get to the Junkyard Art gallery, the HDR photographs Woeller displays contain all of the potential good HDR offers without any of the bad stuff that often produces HDR images with a "painting-on-velvet" look. David Woeller is a magician with a camera as can be seen by looking at his other galleries, especially Black and White, which isn't all that black and white.
www.wsimonphotography.com
Winifred Simon uses the liveBooks (www.livebooks.com) platform to display 12 portfolios. Simon is a woman of few words. Her Bio page, for example, consists simply of a nice portrait. Some insight into Simon may be gained by viewing her Self Series portfolio that uses the same format as many liveBooks portfolio sites with a column of thumbnails on the right-hand side and a large image in the center. Click a thumbnail; see a larger version. In this series—many of which are in digital infrared—Simon uses reflections, shadows, and what appears to be multiple exposures to tell a story somewhat in the manner of Duane Michals. There's a story in there somewhere but only the photographer knows for sure what it really is.
More accessible are her travel images of Bhutan, Japan, and Cambodia, where she takes you "up the river" with Colonel Kurtz with mysterious images of a temple in the jungle juxtaposed with warm portraits of monks and natives smiling for her camera. The image of a silhouetted oarsman at sunset combines both styles in a single dramatic image. Simon's approach is clearly that of a fine artist, which can be seen in her Trees Dreaming Series that features soft, monochromatic images of trees made using a combination of backlighting and soft focus. Winifred Simon's Infrared Landscapes are similar in that they are more than simply cold technical reinterpretations of reality but take us into inner space, seeing a world that combines mystery and an eye for what she feels, not what she sees.
www.randesignstudio.com
The next Shutterbug reader's website belongs to Randy Wong, a talented web designer and photographer who was recently named as director of photography for Exotic Adventure & Travel and Exotic Fashion magazines.
His skills in these areas are on display in a no-frills site that places the emphasis on his colorful and well-crafted images. Images in any of the 31 galleries can be viewed by clicking on thumbnails or viewing them as a slide show.
Parkour is a non-competitive sport that focuses on efficient movement around obstacles and Wong's amazing and oft-times beautiful images of the Southern California-based Team Aeon in action are amazing both for the physical prowess of the participants as well as the photographs he ultimately captured. In Hollywood, Wong takes a bride and groom on a tour of Tinseltown, producing one of the most unique series of wedding photographs I've seen. Combining a photojournalist's approach with a couple who were up for anything—standing in the middle of a street at night in front of a Land Rover—Wong produced images they will treasure for a long time. There are lots of car photographs here, too, ranging from Porsches to Motorsports to Concours II, featuring images of exotic automobiles in a traditional Concours d'Elegance setting. Poke around in any of these galleries and you'll quickly see that Randy Wong is a multitalented photographer with the chops to tackle any kind of assignment, from people to products.
http://toadhollowphoto.com
The Toad Hollow Day of Encouragement is a day for giving encouragement and support to others, which is something that Scott Johnson, the Canadian proprietor of November's Blog-of-the-Month, does for visitors to his blog. Toad Hollow Photography is a WordPress blog that uses the Greyzed theme created by The Forge Web Creations (www.theforge.co.za). Johnson specializes in HDR photography with a focus on historic items and artifacts; architectural studies; and cars, trucks, boats, motorcycles, and other toys. If you've got the blahs, the blues, or are feeling a bit down and out about your own photography, a visit to Toad Hollow will pick you up with Johnson's informative posts and delightful HDR images.
Clicking on any of the blog's images takes you to a gallery page that lets you examine it and other similar photographs in a slightly larger format. To get more insight into the techniques that Johnson uses to create the HDR images that populate the blog, you can subscribe to his tips and tutorials. He tries to update the blog once a week, sometimes more often, and has collected the Top 10 posts to get you up to speed with the blog's content. If any of these topics are of interest and you want to see how a master of HDR photography creates these kinds of images, you should pop into this blog for a regular visit.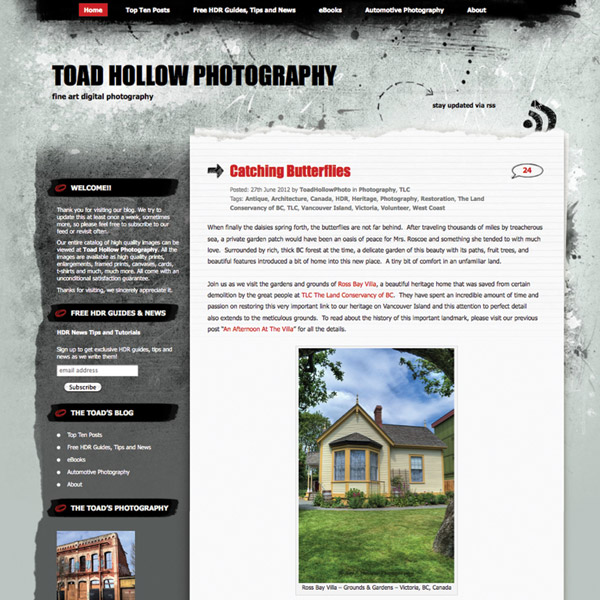 LATEST VIDEO