Olympus SZ-30MR
Olympus Imaging America Inc. unveiled the full-featured SZ-30MR, a super-zoom camera with a multi-recording function capable of simultaneously capturing 1080p HD video and 16-megapixel still images. The Olympus SZ-30MR helps you capture it all with its 24x optical wide-zoom lens, and displays your pictures and videos on its 3.0-inch, high-resolution LCD.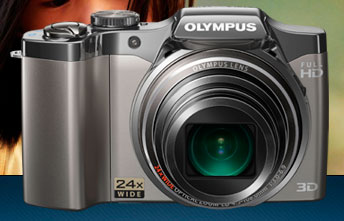 Features include:
· New! Multi-Recording Mode – a world-first, Olympus Dual Engine technology enables users to combine various photo and movie recording modes simultaneously
· 24x wide-optical zoom – enables exceptional close-ups
· Full HD Video and HDMI Control – delivers a broadcast-quality 1080p movie experience when played back on an HDTV
· 7fps Continuous Shooting (16MP) – offers a full-resolution burst mode enabling continuous shooting, in rapid succession
· 3D Photo Mode – captures two shots of a scene from two different angles to create still photos that can be viewed with the added excitement and realism of 3D; and
· Eye-Fi™ Card Compatibility – enables automatic wireless uploading of images to the website or PC of your choice.

The Magic Art Filters for stills and HD videos include:
· Pop Art - enhance and saturate colors to create vivid, high-impact pictures that express the joyful, lighthearted feel of the Pop Art style of the 1960s
· Pin Hole - reduce the peripheral brightness of an image as though it were shot through a pin hole, connecting the viewer intimately with the subject at the center
· Fish-Eye - emulate the wide angle of a fish-eye lens by taking extremely wide, hemispherical images and magnifying the center of the frame
· Soft Focus - enclose the foreground of an image in gentle, pastel colors with a soft, elegant focus; similar to effects achieved in a studio
· Drawing - turn your image into a sketch outline for children to color
· Watercolor - transform your images with a finish like that of watercolor paintings
· Sparkle - shoot photos with the luxurious feel of twinkling lights; and
· New! Punk - create two-tone images full of rock-and-roll spirit
· 3D Mode
OLYMPUS Software Makes it Even Easier to Share and Print Your Photos
All Olympus digital compact cameras now offer the new OLYMPUS photo organizing and editing software. It includes photography workflow, browsing, editing and unique photo organizing functions. You can organize photos by person with automatic face-recognition technology, by place with a map-tagging function or by event. All information will be tagged in each photo's data. You can then easily upload images to the integrated online service, to share and backup photos, as well as order prints and photo merchandise. The name [ib] stands for image bridge, because the software is designed to create a bridge to help you get images from your camera to services where you can do more with your photos.

Availability
The Olympus SZ-30MR will be available in April 2011. It will ship with a Lithium-Ion Battery, USB Cable, Wrist Strap, Quick Start Guide, Warranty Card, Instruction Manual, OLYMPUS [ib] and Olympus Viewer 2 Software.
U.S. Pricing
Olympus SZ-30MR Estimated Street Price: $399.99
www.olympus.com

LATEST VIDEO

SPONSORED VIDEO