Benro MeFOTO Transfunctional Travel Tripod Kit
Benro announced the eye-catching and very versatile new MeFOTO Transfunctional Travel Tripod Kits. This new tripod provides photographers with a reliable camera support for sharp photos and videos while allowing them to express their individual style when choosing from a selection of brilliant Red, Green, Blue, Gold and Titanium Metallic colors.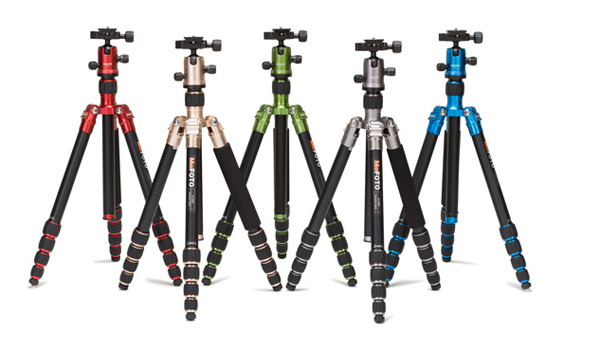 Offering even greater versatility, the new MeFOTO Transfunctional Travel Tripod provides all the same great features of the Compact MeFOTO Travel Tripod kit, plus the ability toconvert from a full size tripod into a 64" monopod quickly and easily – without tools.
"These colorful, well-built and modern new Transfunctional Travel Tripods are the perfect addition to the MeFOTO product line," said Jan Lederman, President of MAC Group. "While the Compact MeFOTO Travel Tripods are ideal for any general picture-takers using lightweight point-and-shoot digital cameras and compact interchangeable lens digital camera systems, this new Transfunctional model provides photographers with dependable support for larger camera bodies and lenses."
Utilizing a Reverse Folding Leg system based on the popular Benro Travel Angel kits, the new MeFOTO Transfunctional Tripods, available in one size with a choice of five colors, are only 15.4" when folded yet 61.6" extended. The MeFOTO Transfunctional Travel Tripod weighs 3.6 lbs. and can securely support up to 17.6 lbs.
Aluminum alloy material is utilized extensively in the construction of these tripods to take advantage of cast, forged and CNC machining techniques, all accentuated by an elegantseries of robust surface treatments accented with color.
Features include:
• Travel Compact – Reverse Folding Leg system
• Quick Twist Rubber Lock Grips with Anti-Rotating Legs
• Two Position Leg Angles
• Tool free conversion from Tripod to Monopod
• Recessed Center-Column Hook
• Precision Matched Dual Action Q-Series Ballhead with Arca-Swiss Style QR Mount and QRPlate
• Separate Head and Pan Lock
• 360-degree Pan Index
• Integral Bubble Level
• Compact Carry Case with Shoulder Strap
The new MeFOTO Transfunctional Travel Tripod Kit is available now. Suggested retailprice for the new Tripod Kit is $229. For more information visit www.BenroUSA.com.
Benro products are exclusively distributed by MAC Group (www.MACgroupUS.com) in the USA.