Canon's EOS Rebel T2i; The EOS 7D's Kid Brother
If you look at Canon's website (www.usa.canon.com) you'll notice that the 18-megapixel EOS Rebel T2i sits between the EOS 50D and the price-point EOS Rebel XS, the latter being a camera I tried and disliked intensely. My personal EOS 50D, although possessing Live View and many other cool functions, does not capture HD video like the T2i, so based on my experience with this new camera I'm moving it up between the EOS 7D and EOS 50D. Yet, it's a Rebel with all the costs/benefits that go along with that nameplate. An 18-megapixel EOS 7D body costs $1699, while the EOS Rebel T2i kit with an EF-S 18-55mm IS lens is $899.99. (To see a detailed comparison between the two 18-megapixel SLRs, go to the Instant Links section of our website for this issue.)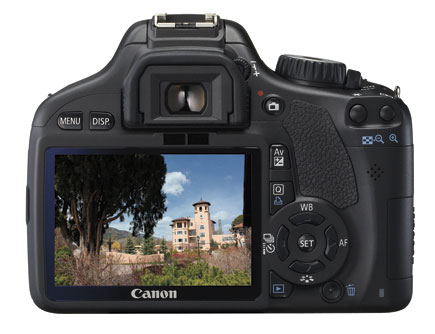 The Rebel T2i looks every inch like a Digital Rebel but produces results that rival larger and more expensive Canon models and, not surprisingly, features HD video recording capability with selectable frame rates up to 30 fps (frames per second). Canon says the Rebel T2i has "a large CMOS sensor," but that all depends on what your definition of "large" is. The CMOS sensor in my 10-megapixel EOS Digital Rebel XTi measures 22.2x14.8mm, while the Rebel T2i's sensor is 22.3x14.9mm. By comparison, the imager in an 18-megapixel EOS 7D (see the March 2010 issue of Shutterbug) measures that same 22.3x14.9mm but retains the same 1.6x lens multiplication factor.

The Rebel T2i features 3.7 fps continuous shooting, an ISO range of 100-6400 that's expandable to 12,800 using a Custom Function, and the same DIGIC 4 Imaging Processor as the EOS 7D. Like most Rebels, the SLR has nine illuminated autofocus points (the center AF point is cross-type) and I experienced none of the focus indecisiveness I encountered with the recently tested and more expensive EOS-1D Mark IV. Go figure.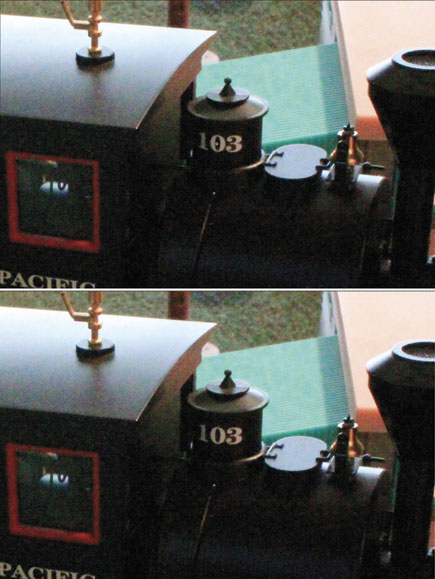 (Top): My noise reference shot for the Rebel T2i was made at ISO 400 and an exposure of 3.2 seconds at f/22. Even with long exposure noise reduction turned off, I could have made a print at the full file size of 11x17" and you wouldn't be able to see any noise. (Above): Here are enlarged sections of the identically framed image made at the H or 12,800 expanded ISO setting. The top image was made with long exposure noise reduction turned off, the bottom one with long exposure noise reduction turned on. There is a subtle but noticeable improvement from using the built-in noise reduction. Both shots are noisy but not annoyingly so and when you need to hand hold an exposure that 12,800 setting can come in handy.
All Photos © 2010, Joe Farace, All Rights Reserved
The camera's Auto ISO function works in all Creative Zone Exposure modes, including Manual, and you can set the highest ISO the camera will use, enabling you to retain the lighting or look that's desired. There's a ± 5 EV exposure compensation range that I found useful when shooting in bright or dark environments, for controlling an image's mood (high or low key), or capturing High Dynamic Range (HDR) photographs. The Rebel T2i includes Canon's Auto Lighting Optimizer that can enhance shadow detail or add contrast to flat scenes, Highlight Tone Priority that can add up to one stop of detail in highlight areas, as well as Peripheral Illumination Correction for automatically correcting vignetting.

This new SLR's 3" LCD monitor has a 3:2 aspect ratio and while I liked the size, it also made it more difficult to view outdoors than previous Rebels. The screen also seems more susceptible to smudging and smearing that, when combined with its weak outdoor performance, makes it difficult to view in contrasty lighting situations, such as I encountered in Colorado's Garden of the Gods. On the upside, the LCD can display a full-screen video image utilizing the entire screen during playback.
The Rebel T2i offers all of the six standard Canon Picture Styles, such as Monochrome, and three User Defined Styles at the push of one of the buttons in the cluster surrounding the SET button on the back. I captured this Last Year at Marienbad-inspired shot directly in Monochrome mode while standing on the Broadmoor Hotel's balcony and looking down toward their gardens. Exposure was 1⁄500 sec at f/16 at a noiseless ISO 800.
Noise? The Rebel T2i offers built-in high ISO noise reduction with four user-selectable levels as well as long exposure noise reduction that can be applied to exposures 1 second or longer; both performed better than expected (more later). The SLR is the first EOS model to support SDXC memory cards and provides what-we-have-come-to-expect features such as an integrated cleaning system that, in this example anyway, doesn't work as well as other EOS models I've used.

Live View on the Rebel T2i is easy to activate with just a single button push on the back and no menu diving required à la the EOS 7D. The Rebel T2i is compatible with Canon's RC-6 wireless remote control for still or video capture. I tried to fire it wirelessly using onOne Software's (www.ononesoftware.com) iPhone DSLR Camera Remote app but as of this writing the software does not support the T2i. Based on my experience with other EOS cameras, I expect onOne will get around to adding compatibility "really soon now."
(Left): Rock climbing is permitted at the Garden of the Gods if you have the right equipment and a permit. Image was captured with the EF-S 18-55mm f/3.5-5.6 IS lens and an exposure of 1⁄400 sec at f/11 and ISO 400. Lens was at the 55mm (88mm equivalent) setting.
(Right): The Garden of the Gods is best photographed early or late (park hours are 8am to 8pm) but Mary and I got there with all the other tourists around 1pm and still managed to get some nice shots of rock formations like this one. For better shots I really needed a wider-angle lens but you can get quite close to the rocks. Exposure was 1⁄640 sec at f/16 and ISO 400 with a -1-stop exposure compensation.
The camera's LP-E8 battery is slightly pricier ($59.95, although I've seen them advertised for $95) when compared to the NB-2LH ($47.95) batteries used by previous Digital Rebel models. While the T2i strongly resembles the XTi, its BG-E3 battery grip is not interchangeable with the newer camera. Instead, you'll need the new Battery Grip BG-E8 that holds two LP-E8 batteries and delivers twice the number of shots or video run time. It functions fine with only one LP-E8 battery installed or you can use six AA batteries in Canon's BGM-E8 battery magazine that's bundled with the grip. Unfortunately, I was unable to get a BG-E8 for testing but find the BG-E3 grip to be indispensable with my Digital Rebel XTi and strongly recommend picking up a BG-E8 if you purchase a Rebel T2i.
Let's Not Call Them Movies
The Rebel T2i offers 1080p HD video capture and you get full 1920x1080 resolution video at selectable frame rates and manual exposure control. By using the camera's Auto ISO function, you can retain dark shadow areas and avoid blowing out highlights while still retaining the benefit of automatic ISO adjustments. The Rebel T2i can capture video in NTSC (National Television System Committee) or PAL (Phase Altering Line) standards at selectable frame rates, including Full HD 1920x1080 at 30 fps. In addition to its built-in monaural microphone, the Rebel T2i includes an external stereo microphone jack which even semi-serious video shooters should consider using. George Lucas says 40 percent of a movie is its audio but I think it's 60 percent.

The Rebel T2i's Movie Crop mode lets you produce 7x magnification when shooting SD video for a "telephoto" effect. Canon states that "unlike the digital zoom feature found in many compact digital cameras, Movie Crop mode actually crops the image directly from the CMOS sensor at full SD resolution to preserve maximum image quality," but it still sounds a lot like digital zoom to me. The Rebel T2i's autofocus can be operated before or during video recording just by depressing the shutter button halfway, but if you want to shoot steady video, you should consider a support such as the $249 SD Camera Brace from Habbycam (http://filmmakeraccessories.com).
With a Guide Number (ISO 100) of 43, the Rebel T2i's built-in flash does an excellent job of balancing the light from a large window at camera left in one of the interestingly decorated rooms at the 93-year-old Broadmoor Hotel. Exposure was 1⁄60 sec at f/4 and ISO 400.

FEATURED VIDEO