The Way Of The Future
"New at PMA `05: Film!"--Headline in Convention Daily Newspaper
In the entire history of the PMA show this is the first time no new 35mm film SLRs were introduced, so ya gotta wonder what the dude who wrote that was smoking. According to the British Journal of Photography, the manufacture of Contax and Kyocera 35mm film cameras has ceased and digital products are said to follow by the end of the year, marking the end of a glorious era. In other film news: The German website Spiegel Online reported that Leica may be in financial difficulties after banks cut its credit lines which could result in the company losing half its operating capital. If Leica's newest product at PMA 2005 is a digital back for its (gasp) SLR, then the end of the film world as some people have come to know and love is surely at hand.
Digital Backs
Sinar Bron Imaging's eMotion22 untethered digital back offers 22-megapixel resolution, a 1.2-second capture rate, and uses CompactFlash Type I and II cards. It previews the captured image on a 2x2 color screen which can also display histogram, sensitivity, battery charge level, exposure warning, memory status, and white balance. The eMotion22 uses Mac OS X-based software and is available for Hasselblad H1 and V, Mamiya 645 AFD, and Rollei cameras.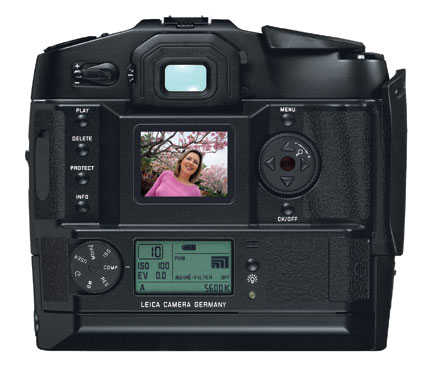 MegaVision has a new E-series of digital backs that redefine what "tethered" means. The E-series backs offer 6, 11, 16, and 22-megapixel resolutions and are available in color or monochrome. Because there is no Bayer pattern interpolation, the monochrome backs permit two more stops of ISO speed and don't need blur filters. The E-backs offer FireWire connectivity to the tiny OQO computer (www.oqo.com) that slides onto the MegaVision back--it's that small. Yet the OQO computer is a fully-functional Windows XP computer with a 1GHz processor, 20GB hard drive, 256MB of RAM, a color transflective display, and integrated wireless, as well as FireWire and USB ports.

New only to PMA, but shown at last year's PhotoPlus Expo, Leica's Digital-Modul-R stands as a model of the real potential for the integration of film and digital photography. Replacing the back on a Leica R8 or R9, the Digital-Modul-R turns the camera from a precision film camera into a digital SLR with 10-megapixel resolution. It captures raw, TIFF, or JPEG onto Secure Digital memory cards. It also has a lens multiplication ratio of 1.37x and a FireWire interface. With used Leica R8 bodies available at Digital Rebel XT prices this could be the hit Leica needs to overcome dropping sales and the subsequent financial fallout.


Creo's Leaf Aptus family of medium format digital camera backs feature a built-in 3.9" touch screen for image evaluation, focus confirmation, and editing. Available in either 17- or 22-megapixel resolutions, the Leaf Aptus can capture an image every 1.2 seconds. Leaf's Valeo Wireless digital camera back uses Bluetooth wireless technology for two-way communication between the camera and the Leaf DP-67 image display and control unit that's based on HP's iPAQ pocket PC that lets you view "digital proofs."

The Rollei db20p, known as the Phase One db20p in the rest of the world, is designed for the Rolleiflex 6008 AF. It has a 16-megapixel CCD (36.9x36.9mm), 2.2" LCD screen, and ISO sensitivities of 50, 100, 200, 400, and 800.

BetterLight's HS-series of large format scanning digital backs feature a Hi-Speed USB 2.0 interface for improved connectivity and speed. The new design reduces the size and weight of previous SCSI-based units. There are six models ranging from the 5000x3750 resolution Model 4000E-HS that costs $6495 up to the Super 10K-HS that produces 402MB 13,800x10,200 files.
Memory Cards
Fulfilling the digital photographer's continuing need for speed, Lexar Media's Platinum Series flash memory cards are rated at 40x, which is equivalent to a minimum sustained data read and write speed capability of 6MB per second. In addition, the Platinum Series now includes Memory Stick PRO and Secure Digital media formats. Nikon's D2X is the first camera to incorporate Lexar's LockTight flash memory cards. LockTight CompactFlash uses 160-bit encryption technology and digital cameras can only access content stored on the memory card with a corresponding encryption key or by a computer with a valid username and password.

Lexar also announced a new USB card form factor that's based on the USB Type A connector. Its metal housing measures 12x4.5x31.75mm and offers plug-and-play connectivity with all operating systems. Lexar plans to introduce Full-Speed USB versions in 16MB, 32MB, and 64MB capacities as well as Hi-Speed USB versions with a 60MB/second interface speed in 64MB, 128MB, 256MB, 512MB, and 1GB capacities.


The newest member of Delkin Devices' Secure Digital memory card family is the SD-Xtra card which allows effortless transfers between any Secure Digital slot and any USB port. The design allows photos, music, or data to transfer easily without the use of a card reader or cables. Built into this Secure Digital card is a USB 2.0 high-speed flash drive in capacities from 128MB to 1GB. With the removable cover installed, the card plugs into any standard Secure Digital or MultiMediaCard card slot in kiosks, cameras, PDAs, or MP3 players. When the cover is removed, the card becomes a USB thumb or flash drive that plugs into any standard PC or laptop USB port and is read like a disk drive.

SanDisk doubled the capacity of its miniSD card to 1GB. The package includes an adapter allowing it to be used in any of the existing Secure Digital card devices and costs $99.99. SanDisk announced a 2GB Memory Stick PRO Duo flash storage card and a new Memory Stick PRO Duo family for its SanDisk Ultra II line. The SanDisk Ultra II Memory Stick PRO Duo is offered in three capacities: 512MB, 1GB, and 2GB and is priced at $119.99, $209.99, and $479.99. These cards have minimum write and read speeds of 10MB per second and are designed for digital still cameras with 5-megapixel resolution and higher. SanDisk's Ultra II SD Plus is a Secure Digital flash memory card with built-in USB connectivity that can be used as a high-speed USB 2.0 flash drive. The new card works seamlessly in any Secure Digital card slot and has a write speed of 9MB per second and read speeds of 10MB per second.


Oh no, Mr. Bill. Not another memory card format! Fuji announced the availability of a 1GB xD-Picture Card Type M. This new memory card utilizes Multi Level Cell (MLC) architecture, a new high-density flash memory technology. Currently one of the smallest (and easiest to lose), the xD-Picture Card measures 0.79x0.98x0.07" and weighs less than 1/10 of an ounce.

Not to be outdone, Olympus introduced a 1GB xD-Picture Card along with a portable USB reader/writer for xD media. When an xD-Picture Card is placed in the MAUSB-300 Portable USB Reader/Writer data can be directly transferred to and from a
personal computer.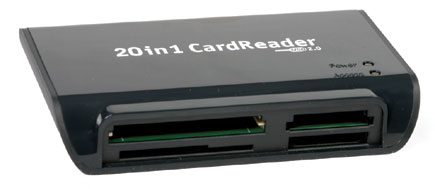 Did Somebody Say Card Readers?
Tired of your wimpy 8-in-1 memory card reader? Get Jobo's 20in1 CardReader. With a fast USB 2.0 connection, Jobo's 20in1 CardReader is compatible with Mac OS and Windows and supports CompactFlash (Type I and II), Microdrive, Smart Media, Extreme Digital, Secure Digital, miniSD, MultiMediaCard, RS-MMC, along with the following Memory Stick formats, MS PRO, MS PRO Duo, MS MagicGate, MS Select, MS Duo, MS Duo MagicGate, MS PRO MagicGate, MS PRO Duo MagicGate, MS PRO Ultra II, and MS ROM.

Delkin's eFilm Reader 37 is an internal USB 2.0 multi-card reader/writer that reads and writes to CompactFlash (Type I and II), Smart Media, Secure Digital, MultiMediaCard, miniSD, RS-MMC, Memory Stick, MS PRO, MS Duo, and MS PRO Duo. A front-mounted USB 2.0 port also permits connection of any USB-enabled device or pendrive.

Manufacturers/ Distributors' addresses can be found on page 176.

FEATURED VIDEO