Websites: Best Practices; Marketing, Presentation, And Clients
Every workshop I give, someone asks, "How important is a website for marketing my work?" Marketing with a website is still a relatively new technology compared with print marketing, and most pros agree it mainly serves as an addition to the marketing mix and does not replace other tools. If there's one thing I learned when researching this story, though, it's that we are all still learning about the weight a website should have in your marketing mix. One thing is certain: it is no longer a question of do you need a website? It's more how should you present your website? Everyone wants to be on the Internet, but you need to know where you are going, and why. Is your audience in the consumer market for photography, or are you seeking the attention of commercial clients? Are you going to be a page on a portfolio site or have your own website? What mistakes can you avoid on your homepage? How do you get "searches" to find your website? What is your expectation of visitors to your site: to contact you for more information, call you for jobs, or sign up to be on your mailing list?

Weighty questions all, so to find out I asked four professional photographers to share their website marketing success stories. I encourage you to visit their websites as a companion to this article. The pros I spoke with are Paul S. Bartholomew (www.psbphotography.com), Jeff Colburn (www.jeffcolburn.com), Brad Mangin (www.manginphotography.com), and Ian L. Sitren (www.secondfocus.com).
© 2010, Paul S. Bartholomew, All Rights Reserved
Shutterbug: For photographers just starting out or expanding their business, how do you feel about portfolio websites (for example, workbook.com and asmp.org/find-a-photographer) vs. your own personal site?

Paul S. Bartholomew: Your own website is the number one priority and I would rather see someone invest in that before trying portfolio sites or portals. Your own website is a foundation to build upon. If your budget permits, then go ahead with portfolio sites or portals. The idea is to get your name out there and any quality effort will help. I recently joined PhotoServe but it's too early to judge.

Asmp.org/find-a-photographer is good for many reasons. It's associated with a quality organization for photographers so it brings more credibility. As an ASMP general member it is part of your benefits so it's very reasonable for your budget. My first year listed, I attracted a nice project that more than pays for my ASMP membership over a lifetime.

Brad Mangin: You can never have too many different sites showcasing your work and linking back to your own website. Backlinks to your own portfolio site help your Google ranking. I have mini-portfolio sites at www.eddieadamsworkshop.com and www.sportsshooter.com. Be cautious of portfolio websites that have salespeople always calling trying to sell an expensive presence with them.

Jeff Colburn: I prefer to have my own site because I can have total control over the look and feel of my site, work offline and test out pages before they go live, and take my website and move to another hosting company whenever I want. The downside to having your own site is that you do all the work and even with a template site it takes a lot of time. If you're not tech savvy, or don't want to spend the time working on your website, then having your own site may not be for you.

Portfolio websites have some good features. They can be easy for uploading images, creating thumbnails automatically, adding watermarks to your images automatically, and you can change the look of your site easily with just a few clicks. Often, shopping carts are included once you get above the basic level. Check the fees, though. I've seen transaction fees of over 30 percent. These sites have bad features, too. You may have to pay additional fees for a wide range of features. If you run a stock photo site as I do, you may have to pay for additional storage space and if the company goes out of business you could find yourself without a website.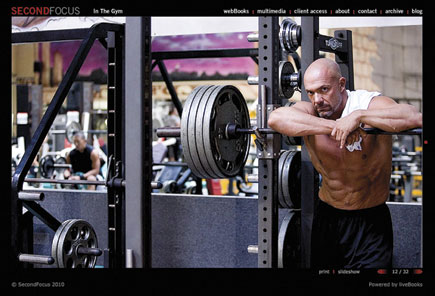 © 2010, Ian L. Sitren, All Rights Reserved
SB: What are the "dos" and "don'ts" in design elements that make a good homepage?

Brad Mangin: A homepage should be simple, load fast, not have music, and feature a big, awesome photograph. This site is to promote your photography, not the fancy work of some designer friend who wants to show off their skills. No one wants to see crazy designs that dance all over the page. Editors want to see your photographs and see them quickly so they can make a decision and go on with their busy day.

Ian L. Sitren: Great, hard-hitting, attention-getting photos that are in your face! It has to always work, be totally reliable and universal. It must be fast loading and simple to navigate. And here's something so simple that people miss it all the time—make your contact info easy to find and not just an e-mail. Where are you located? Someone in a hurry is not going to stop and send you a note or call to see if you are in Los Angeles only to find out that you are in Plano, Texas.

Paul S. Bartholomew: Do keep it simple, do show decent-sized images that represent your style, and do try to include text if possible, but don't overdo it. Don't overcomplicate the layout by making it a mystery where to navigate and don't show too many images and dilute the impact because that's what your galleries are for. I think about how the first few seconds of viewing my homepage will make a strong enough impact to encourage someone to dig deeper.