Stocking Stuffers: It's All About Giving To Others
"Open your presents at Christmastime but be thankful year round for the gifts you receive."—Lorinda Ruth Lowen
This is the time of year when readers are looking for gift ideas for themselves, family, and loved ones, so, presented for your approval, is a list of gizmos, gadgets, and gear for the digitally-minded who think they "have everything" but didn't know that they really needed more stuff to produce that ultimate image. You can use this month's column as a shopping list for your favorite photographer or grab a Sharpie and circle all of the goodies that you want and leave it near where your spouse eats their Grape-Nuts. It's worked for me.
iFolio For Your iPad
NewerTech's (www.newertech.com) iFolio lets you carry an iPad or iPad 2 in style while protecting it at the same time. The iFolio is padded to protect your iPad and is available in 11 different colors to suit your fashion sense, including Black, Red, Dark Red, Cream, Yellow, Orange, Lite Green, Dark Green, Blue, Cognac, and Tan. It has a collapsible, elastic-backed, double-stitched leather handle and removable, double-stitched leather shoulder strap that's adjustable from 24" to 42" and is attached to the outer case with sturdy, nickel-plated hardware.
The iFolio opens using a YKK pull tab-equipped nylon zipper, revealing an elastic-backed, expandable leather loop that's been designed to hold writing or pointing devices. The left compartment contains a 7x10" hard-backed, taffeta-lined document sleeve for easy insertion and removal of passports, notes, or other important papers and personal effects. Prices start at $87.99 on OWC's website (http://eshop.macsales.com). Santa? I want a red one.
Holga Panoramic Pinhole
Want to bring back that same thrill of discovery you had when you first got into photography? Shoot with a pinhole camera. If shooting film seems too alien to you, it's still easy to get processed and some photo labs will offer to scan the images for you. One of the best ways to try what amounts to large format pinhole photography is with a Holga (www.holgadirect.com) 120 WPC Wide Panorama Pinhole Camera. For less than $50 you can create eight 6x12 (my favorite) or 12 6x9 panoramic images, because inserts are provided for each format.
It comes in classic Holga Black and the Pinhole aperture (f/135) permits extreme depth-of-field capture and the tiny 0.3mm aperture produces shutter speeds than are correspondingly longer than what would be considered "normal." I prefer the "hippopotamus" method for counting seconds: one hippopotamus, two hippopotamus…but no focus decisions are needed. Holga recommends their Shutter Release Set accessory for controlling long exposures. As of this writing I didn't have a Shutter Release Set for testing so I just set the camera on a sturdy tripod (or a concrete wall in one case) and pushed the odd, sideways shutter release button, all the while counting hippopotami. The 120 WPC Wide Panorama Pinhole Camera only weighs 7.7 oz and no batteries are required!
Lighting Control For Speedlights
At 10x14", LumiQuest's (www.lumiquest.com) SoftBox LTp won't fit in most people's stockings but easily stows in the laptop pocket of their camera bags/backpacks. The SoftBox LTp is roughly twice the size of the company's SoftBox III, offering a surface area more than 40 times—120 square inches of surface area—than that of a speedlight, enabling it to produce the softest shadows of any LumiQuest SoftBox. Yet, it costs less than $50.
The SoftBox LTp is designed exclusively for off-camera use and all that diffusion produces a light loss of 11⁄2 stops. You can attach it to your speedlight using provided touch-fastener strips or if you don't like to do that (I don't) use the cool and inexpensive ($7.95) UltraStrap that combines neoprene and touch-fastener elements to mount it. The UltraStrap, which makes another great stocking stuffer, applies a constant 3 lbs of tension to the flash through its nonskid surface and easily attaches to most speedlights, providing a secure attachment point for all LumiQuest accessories.
Photoshop Actions Of The Month
XPro Software (www.xprosoftware.com) produces the $99 Windows-only GeniuX Photo EFX for photo editing and digital painting that uses presets, allowing beginning digital imagers to process photographs with a single click. More advanced users can take advantage of more than 300 custom settings for more options. XPro Software also offers free Photoshop Actions that, by their very nature, are cross-platform and work with Mac OS or Microsoft Windows computers. The Retro Vintage Pro Pack - v002 comprises 10 Photoshop Actions, including Black & White Negative, Color Negative, Cross Processing, Velvia Low, Velvia Med, Velvia Hi, Lomo Low, Lomo Med, Lomo Hi, and Cyanotype.
For portraits, I liked the five actions in the Perfect Woman Skin Pro Pack that include Soft Skin Low, Soft Skin Med, Soft Skin Hi, Clear Skin, and Light Skin. Since the actions create a new layer with the effect applied, you can use the Opacity control on the Layers palette to vary the effect from strong to mild. You can also erase areas of the new layer to allow the background to show through to apply selective focus techniques. I found they worked perfectly with Adobe Photoshop CS4 but some actions had issues with CS5. By the time you read this any incompatibilities may be sorted out but, since it's free and a really fast download, it's worth taking a look at all of the other 14 free actions.
Get A Grip On It
The new b-grip EVO, made in Italy by CPtech (www.omegabrandess.com), provides a strong safe support for your SLR. The base attaches to your waist belt (or to the provided belt), while the quick-release plate attaches to the camera tripod socket. A quick-release mechanism provides instant camera access when you need it. The b-grip EVO's broad base spreads the weight of the camera, making it comfortable to wear and, unlike a conventional neck strap, the camera is held firmly in place and can't swing when hiking rocky terrain, reducing the chances of any damage.
The b-grip EVO lets you mount the camera either lens-down or lens-up. The lens-up position provides a third hand when changing lenses. If you use a backpack, the b-grip EVO can be attached to the chest or waist with the optional b-grip Travel Kit ($19.99). It's also easier to see the rear LCD when reviewing images. Most importantly, you eliminate the tedium of removing the backpack, extracting the camera, taking the picture, replacing the camera, refitting the backpack, etc. By then that eight-point buck has wandered off. Manufactured in Italy, the b-grip EVO is constructed from high-quality materials, hence the $69.95 price tag, but it should provide years of reliable service.
Profiles In Color
The PSKiss Skin & Scenery Color profiles are an alternative way of applying preset effects in Adobe Photoshop or Lightroom, allowing you to create a unique version of your photo. Installing presets is a bit more complicated in Photoshop but the kissers provide useful how-to documents and a training video on their website (http://pskiss.com) showing you how. The PSKiss Skin & Scenery Color profiles are profiles, which means that the creative adjustment is quickly applied for faster workflow and better and more flexible utilization of Adobe Camera Raw (ACR) or Lightroom tools. The $19.90, as I write this, package includes six Skin & Scenery Color profiles, including Cool BrightUp, Dark Skin, Powered Skin and Lips, Velvia Touch, Vintage, and Vivid Landscape; 24 Lightroom presets; and 24 ACR presets that work with Photoshop as well as Photoshop Elements.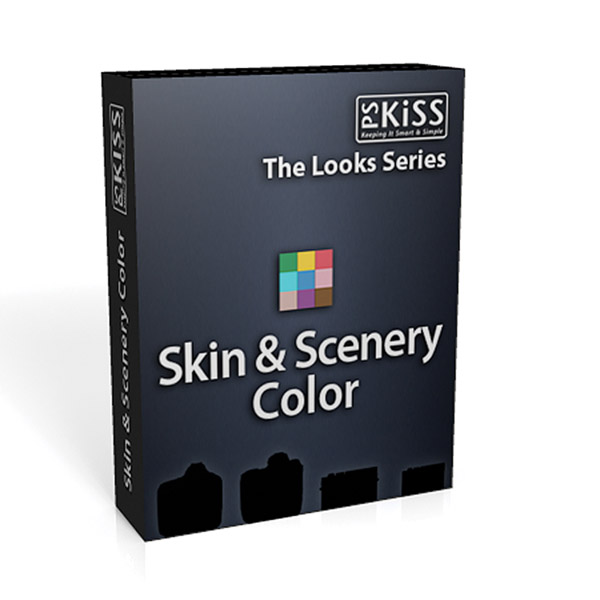 Get The Big Picture
The LCD screen on your camera doesn't always provide 100 percent coverage and even if it does, it's sometimes so small that tiny details can get lost. This was recently brought home when testing an extreme wide-angle lens. The camera's LCD showed slight vignetting but when I looked at the files on my 23" monitor the problem was much bigger than I thought, along with some distracting details in the background that I missed. This can be especially important when shooting in tight spaces such as my in-home studio that, like all studios everywhere, is never quite big enough. Along comes the Flashpoint (www.adorama.com) LCD 8" Monitor to the rescue with its 4:3 aspect ratio and 800x600 resolution.
While not inexpensive ($598), the Flashpoint LCD 8" Monitor has a really big screen that can also be used for HD video recording in real time viewfinder shooting or off-camera shooting with any SLR or mirrorless interchangeable-lens camera that has an HDMI port. If your camera does not have an HDMI port, you can use the monitor in wireless mode along with a provided adapter and the video output cable that came with your SLR and connects to the "Video Out" jack. But you will need some batteries to make it all work. The monitor has an AC adapter but if you want to use it without a cable, requires a Canon Battery Pack LP-E6 ($62.95) used in the EOS 5D Mark II or 7D. The transmitter requires a Canon NB-4L battery ($38.95) to make it function and you'll need this even if the monitor is AC powered. This monitor has proven itself to be an invaluable accessory in my new studio.