October Table Of Contents
October 2011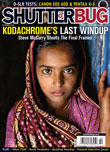 On The Cover
Renowned photographer Steve McCurry shot our cover image of a Rabari girl on the last roll of Kodachrome film ever manufactured. We are privileged to share with you the final frames taken with this beloved film. To see more of Steve's images, turn to page 122. Aside from Kodachrome's last windup, we have news about the Polaroid Collection of images being saved thanks to the Impossible Project and WestLicht Museum of Photography. In addition, we have D-SLR tests on the Canon EOS 60D and the Pentax K-5, plus an extensive roundup on backdrops and a lighting test on Booth Photographic's parabolic umbrellas.
Tools
42 Roundup
Covering The Photo Beat
by C.A. Boylan
56 Digital Innovations
Image Processing & Processing Images
by Joe Farace
70 Digital Help
Q&A For Digital Photography
by David B. Brooks
72 Test Report: The Nikon COOLPIX P500
Ultra Zoom Personified
by George Schaub
76 Test Report: The Pentax K-5
It's A Matter Of Tradition
by Joe Farace
92 Test Report: Canon EOS 60D
The Next Generation Takes A Turn In The Road
by Joe Farace
110 Test Report: Nikon Micro Nikkor 85mm f/3.5G ED VR
Vibration Reduction In A Macro Lens
by Jack Neubart
168 Help!
Q&A For Traditional Photography
by Robert E. Mayer
Lighting
114 Test Report: Booth Photographic Parabolic Umbrellas
Everybody Needs An Umbrella, The Bigger The Better
by Joe Farace
Techniques
30 Pro's Choice
On The "Cutting" Edge
by Jack Neubart
148 Build A 3D Photo Viewer
Print Viewer For Paired Images
by Clark Salisbury
Creativity
12 Picture This!
Monthly Photo Assignment
by The Editors
22 Talking Pictures
Guitars & Cadillacs
by Gerald Swede
24 Web Profiles
Great Photo Sites Reviewed
by Joe Farace
28 Student Union
Profiles Of The Up And Coming
by Jay McCabe
122 The Last Windup
Steve McCurry Takes The Last Roll Of Kodachrome
by Suzanne Driscoll
126 Denver Art Museum Presents Robert Adams Retrospective
Robert Adams: The Place We Live
Opens September 25, 2011
128 The International Polaroid Collection
Impossible And WestLicht Museum Of Photography Preserve A Legacy Of Images
Departments
10 Editor's Notes
40 In Memoriam
152 Trade Shows
152 Workshops

LATEST VIDEO

SPONSORED VIDEO
Testing Tamron's SP 150-60mm G2 lens while capturing birds and alligators in Apalachicola, Florida.