Forums
Posted: October 10, 2007 - 9:05am
I belong to other forums and when in question "ask the experts". I
#1
Posted: October 11, 2007 - 1:54am
It's not a yes or no question. Do you like the harsh flash on camera look? What do you use for verticals where there is a shadow on the side in each picture you take? If you like the ease of using the built in flash, shooting with a flash in the hot shoe will be just as easy if you use a flash that the camera can talk to, like the SB-600 or 800.
But I'd recommend looking at a flash bracket like the wedding photographers use. Something that keeps the flash above the camera whether shooting horizontal or vertical, and do something to soften the flash so the resulting images don't have that deer in the headlight look.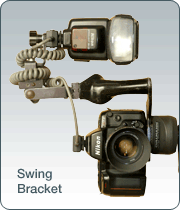 The SB-800 comes with a white diffuser similar to the Sto-Fen Omnibounce. Maybe the 600 does also but I'm not sure. But if money isn't an issue, the 800 is more powerful in the same size package and you may need that extra power for a larger group. I also recommend purchasing s light stand, small white umbrella, and Bogen's Swivel Umbrella Bracket (#2905) so you have the option of using the accessory flash off camera to improve your flash pictures.

#2
Posted: October 12, 2007 - 7:44am
I ordered the SB-800 and received it today. TX'S
Site Map / Direct Links
| | | | | | | | | | | |
| --- | --- | --- | --- | --- | --- | --- | --- | --- | --- | --- |
| Cameras Other | | Techniques Site Features | | Blogs | | More Articles | | Columns eCommerce | | News |