Quantum's Leap
The Qflash T4d Digital Page 2
Things You Can't Do With Your Flash
The Qflash's removable parabolic reflector produces soft, clean light and interchanges with bare bulb, wide angle, diffused, and telephoto reflectors. There are even optional matte silver and light gold bare-bulb enhancers that snap into the reflector slot to make the lighting just a bit more directional, snappier, and add some color.

In Autoexposure mode, I noticed a decided lack of subject "blow out" when the background is far away and the subject is close. The Qflash T4d and X4d Digitals have a "Sensor Limit" and setting the distance to the approximate subject distance forces the Qflash to ignore the background, giving accurate subject exposures. Wedding and event photographers are gonna love this feature.

Flash exposure indicators on four sides blink for visual confirmation that the flash is OK, the image is underexposed or overexposed, or the flash didn't fire.

Qflash power exceeds that of typical shoe-mount and handle-mount flashes, which allows for greater distances, bigger shots, and much more bounce power. That, combined with studio-quality lights, gives professionals or aspiring pros the portable lighting they need.
(Sidebar) Quantum Turbo Powered
As you might guess by its name, the Quantum Turbo 2x2 battery pack has twice the power of their standard Turbo battery, yet is smaller in size. It also has two connections; one for a camera and flash, two cameras, or two flashes! The Turbo 2x2 uses the latest Ni-MH battery technology, has a visible LED "gas gauge," and power cables are available for all popular digicams and flashes.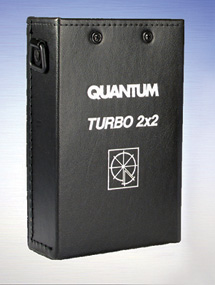 The Quantum Turbo 2x2 can do more than just power a Qflash. Snuggled next to the Photogenic StudioMax II AK320B's AC connection is a DIN jack that lets you connect an accessory DC battery pack. Photogenic supplies a power cord they say works with "most batteries," and to my eyes it looked just like a Quantum Turbo connection if ever I saw one. It connected perfectly with the Quantum Turbo 2x2. So you can really take the StudioMax II light to any location--into the middle of a football field if you want--and make extension cords that people will trip over a thing of the past. If you are using a Photogenic StudioMax II AK320B you need a Quantum Turbo 2x2, too.

Technical Specifications
Qflash T4d Digital
Flash Power: 150 ws
Guide Number: 160 (ft), ISO 100 (with normal reflector)
Auto Range (ISO 100, Normal): 114 ft
Auto Range (ISO 100, Tele): 228 ft
Number Of Full Power Flashes/Recycling:
Turbo Battery: 250/2.5 seconds; Turbo Compact: 225/3.5 seconds; Turbo 2x2: 450/1.9 seconds
Approx. Size: 6x3x3" (without reflector)
Weight: 23 oz
MSRP: $775

For more information, visit Quantum's website at: www.qtm.com.
Site Map / Direct Links
| | | | | | | | | | | |
| --- | --- | --- | --- | --- | --- | --- | --- | --- | --- | --- |
| Cameras Other | | Techniques Site Features | | Blogs | | More Articles | | Columns eCommerce | | News |