Pro's Choice; Richard Izui's Automotive Photography; Beyond The Ordinary Page 2
Digital Preferences
Izui has long preferred the large format camera, having owned three 8x10 Deardorffs. "At Playboy very few photographers knew how to use an 8x10, so that became my niche specialty and gave me an advantage there when shooting products." Alongside that camera, Izui also used a Sinar p2.

When he made the transition to digital in 1996, Izui switched to a Hasselblad ELM and a 16.9-megapixel Dicomed back. Meeting the demands of the marketplace, he ultimately made the move to the 39-megapixel Hasselblad H3D2. Izui also owns a Canon EOS-1Ds Mark II, EOS 7D, and EOS 60D. "We're getting into HD video, so we're using the 7D and 60D for video, along with a Panasonic AG-HPX170." The 1Ds is usually reserved for shooting background elements that are later incorporated in digital composites.
Client: DuPont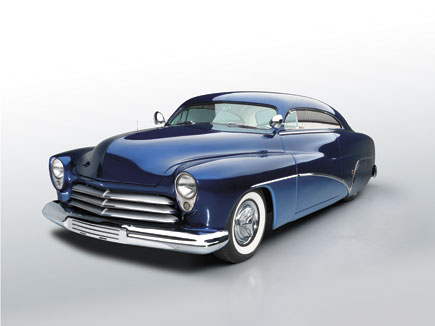 Employing his corner cyclorama, Richard Izui shot this 1952 Mercury Coupe Custom hot rod in his studio for an annual calendar, using a Hasselblad and a 50-110mm zoom. An overhead Chimera box with eight Speedotron heads inside provided the key illumination. That, however, was not enough, so he added lighting from in front, aiming two softboxes through a 4x8-foot silk. Then to make the color of the car pop, he aimed two heads with small reflectors directly at the car, positioning them 4 to 5 feet off the ground (hot spots were retouched out in post). Underneath the car were battery-powered slave lights to bring out the tire treads.
Choices In Lighting
As mentioned, assignments can take an automotive photographer on location. Some photographers routinely prefer to rent gear in these situations. Not Izui. When assignments take him outside the Chicago area, the entire family travels together in a motor home. He notes, "We attach a trailer filled with all our lighting equipment," taking it to most locales, except where gear is readily available for rent, such as Los Angeles or New York. All the camera gear, including backups, goes along as well. This ensures that they're ready to shoot upon arrival at their destination.

In his first assisting job, Izui worked with hot lights. His stint at Playboy brought him face to face with studio flash on a daily basis, utilizing massive 2400 ws Speedotron power packs and modified Ascors. He now relies almost entirely on his Black Line Speedotron system that has served him dutifully for many years. He also uses these Speedotrons on location. His packs range from 800 ws up to 4800 ws, but mostly 2400 ws. Profoto comes to the fore during those rare times when he has to rent lights on location, only because of their ready availability.

The Speedotron system is the power behind the 20x10-foot Chimera bank that hangs overhead in the main studio, which is devoted to automotive. Eight heads drive light through that bank, potentially outputting over 19,000 ws. This Chimera bank uses double layers of diffusion to produce a very soft and even light. Izui takes another of these large softboxes to location shoots. However, he leaves it in the trailer when the rental studio provides its own bank, usually a humongous Fisher.
Portfolio Shot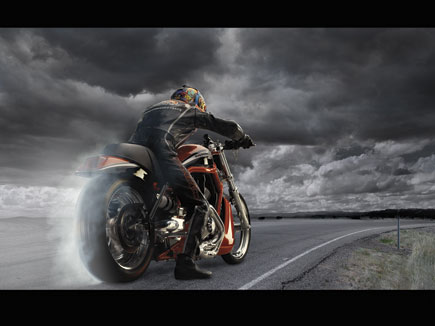 Photographers sometimes take a client shot in a different direction for their own portfolio, as was the case here. At South Bay Studios, Long Beach, California, Richard Izui had the bike locked down on the front tire so that it wouldn't move while it was positioned on a gray-painted platform. The rider fired up the Harley-Davidson Screamin' Eagle V-Rod for this burnout, thereby creating all that smoke. Izui lit this shot beginning with a 15x40-foot overhead bank. Two additional softboxes filled in the side of the bike, while another box was used to bring out the smoke. A stock shot from Izui's files was used for the final composite.
Some Automotive Tips
Izui leaves us with this: "Cars are usually highly reflective and most reflect the floor at least a third of the way up the side. So the floor must be a clean, smooth surface, but not too bright—hence my preference for gray."

He continues: "We expect the top of the car to be brighter so bright reflections are better tolerated in this area (hence the use of a large overhead bank). Chrome bumpers need special treatment, usually with a large bounce panel, notably 4x8-foot foamcore. I run it parallel to the bumper, tilted upward and very close to the car. What's more, tire treads may need to be highlighted and for that I employ battery-powered mini slaves that I place low to the ground, positioning them where they would have the greatest effect, depending on the shooting angle."

And he concludes: "It's advisable to bracket exposures so you can composite different parts of the car for a more polished final image top to bottom and front to back, something that is sometimes difficult to achieve in one shot."
Site Map / Direct Links
| | | | | | | | | | | |
| --- | --- | --- | --- | --- | --- | --- | --- | --- | --- | --- |
| Cameras Other | | Techniques Site Features | | Blogs | | More Articles | | Columns eCommerce | | News |