Panasonic LUMIX GF6
Panasonic has introduced the DMC-GF6 (GF6), a new Digital Single Lens Mirrorless Camera which is the most compact of the LUMIX G family.
The new 16–megapixel Live MOS Sensor achieves both high-resolution and high sensitivity image and video recording. The Venus Engine was also newly developed for the GF6 to attain both high-performance signal processing and noise reduction, achieving a maximum ISO 25,600 (Extended) making the most of the new sensor.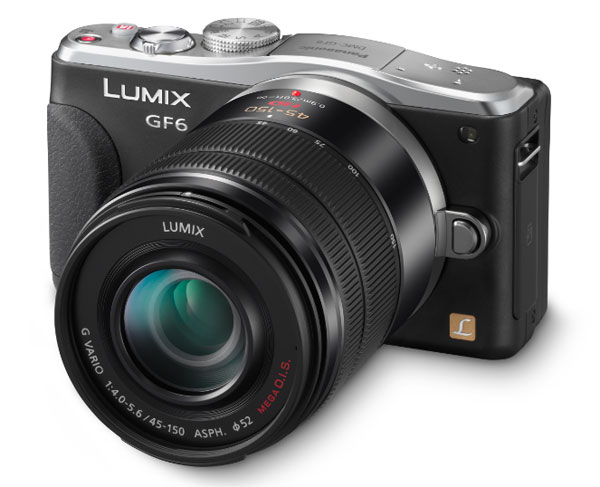 The GF6 offers new Self Shot, Creative Panorama, and Stop Motion Animation, in addition to the popular Creative Control mode that boasts 19 fascinating filter effects. Stop Motion Animation delivers unique stop motion video while the Clear Retouch function gives you the power to erase unwanted parts of a picture after shooting. Both of these functions occur automatically right in the camera.
The GF6 boasts high-speed, high precision Light Speed AF (auto focus) including practical full-time AF and tracking AF is available for video recording. The newly integrated Low Light AF enables accurate focusing on the subject even in low-lit situations. It is ready to shoot in only 0.5 seconds after start-up.
With the Wi-Fi connectivity featuring NFC (Near Field Communication) technology, users can connect the camera to their smartphone/tablet anywhere with one-touch, which makes sharing images much easier. It is also possible to use a smartphone/tablet as a multi-capable remote shutter with a monitor. With the Instant Transfer function, photos are automatically sent to the smartphone/tablet immediately after shooting. In addition, both images and video can be archived to the registered digital equipment such as a PC automatically via the wireless access point (router) at home.
The GF6 records 1920 x 1080 at 60i (60 Hz) full-HD video in AVCHD with high quality stereo sound. The P/A/S/M mode in video recording is also available for more expressive creation of motion picture footage. Despite its sleek, compact profile, the GF6 touts a built-in flash (GN6.3 ISO160‧m / GN5.0 ISO100‧m) and 3.0-inch large approx.180° tiltable monitor.
Site Map / Direct Links
| | | | | | | | | | | |
| --- | --- | --- | --- | --- | --- | --- | --- | --- | --- | --- |
| Cameras Other | | Techniques Site Features | | Blogs | | More Articles | | Columns eCommerce | | News |