Nik Software Dfine 2.0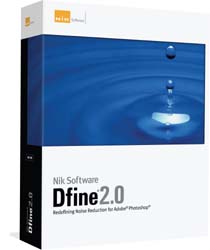 Nik Software Inc. has announced the latest upgrade to its noise reduction tool Dfine 2.0. Designed to improve image quality, Dfine 2.0 now includes Nik Software's patented U Point technology for selective editing control and a completely new user interface that is easier to use and improves workflow for busy photographers.
When capturing images, all digital cameras inherently create unwanted imperfections known as noise. High ISO speeds and low light conditions can also contribute to noise. Dfine 2.0 addresses the issue of digital image noise with unprecedented selective control and a revamped image processing core, which provide superior noise reduction while maintaining detail and sharpness in an image. Its newly re-designed user interface, new auto camera profiling system, and the addition of U Point powered Control Points help photographers quickly and easily improve the quality of virtually every digital photo.
Dfine 2.0 noise reduction can be applied globally or selectively using various controls including:
Control Points powered by U Point technology -- with a single mouse click, photographers can place Control Points on an image and selectively adjust the amount of contrast (luminance) and color (chrominance) noise reduction.

Target Colors -- using an eyedropper tool to select colors, photographers can reduce noise based on a range of colors. This method is ideal for batch processing a series of images.

Selective Tool -- using brushes, noise reduction can be applied selectively. For added control and fine detail adjustments, Dfine also supports pressure sensitive features optimized for Wacom® Pen Tablets.
Dfine also includes a new auto camera profile system as part of its image processing core. This feature adjusts the noise reduction to match specific parameters and nuances based on camera manufacturer specifications. Camera profiles may also be created manually and saved, and then loaded by users at a later time.
Dfine 2.0 will be available in Q2, 2007 direct from Nik Software (www.niksoftware.com) or from specialty camera retailers worldwide at a suggested retail price of $99.95. Registered owners of Dfine 1.0 qualify for special upgrade pricing, while anyone who purchased Dfine 1.0 after February 1, 2007 will receive the upgrade free of charge.
Site Map / Direct Links
| | | | | | | | | | | |
| --- | --- | --- | --- | --- | --- | --- | --- | --- | --- | --- |
| Cameras Other | | Techniques Site Features | | Blogs | | More Articles | | Columns eCommerce | | News |