MediaStreet Adds Bluetooth Technology To eMotion Digital Picture Frame
MediaStreet Inc. is introducing its new eMotion Bluetooth Digital Picture Frame, the first picture frame capable of instantly transferring images from a picture phone directly to a 7" digital frame without the use of wires or cables. Images transferred from cell phones are immediately viewed on screen and stored in the picture frame's built-in 256MB internal memory. Additionally, camera card memory slots for CF, SD/SDHC, MS/MSPRO, MMC and xD cards provide virtually endless memory capacity for hours of uninterrupted photo, video or music playing. The picture frame also has a USB 2.0 port to accept USB drives (aka thumb drives) at any capacity for even greater content access and flexibility.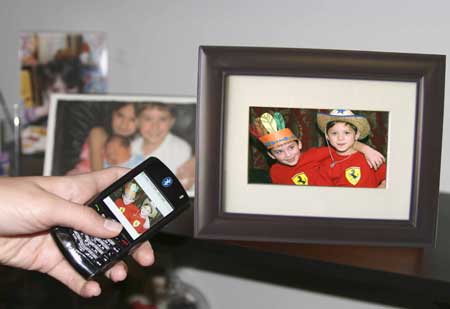 MediaStreet's eMotion Bluetooth Digital Picture Frame will have an approximate street price of $149.00. Additional models are available without the Bluetooth technology at a reduced cost. Taking advantage of other advances in technology, MediaStreet will be introducing its new WiFi-enabled digital photo frame this summer.

Synchronizing or "pairing" a picture phone to the new eMotion Bluetooth Digital Picture Frame is fast and easy. The process is identical to pairing a cell phone with a wireless headset and the simple On Screen Menu Display provides instructions for easy set-up in less than five minutes.
Once paired, images taken with a picture phone can be instantly transferred to the picture frame and viewed on its large 7-inch, LCD 16:9 / 4:3 aspect ratio screen. The picture frame can be operated with its remote control or from convenient buttons located on the frame itself.
Physically, the digital picture frame allows users to customize the look by providing a variety of interchangeable, real wood frame designs. Consumers can apply the appropriate wood frame to best match other furniture in the home or office while providing the rich, elegant look of traditional picture frames.
The MediaStreet eMotion Digital Picture Frame supports formats for photo, music and video playback. For photographs, the picture frame supports JPEG and BMP. Formats supported for music include MP3 and WMA and video formats include AVI, MPEG1, MPEG2 and MPEG4.
Accessories for the new eMotion Bluetooth Digital Picture Frame include a remote control, AV cable, AC/DC adapter, manual, and of course access to free professional photography, music and videos to be downloaded from MediaStreet's content portals: http://MyDigitalContent.com and http://Beyond.fm.

www.mediastreet.com
Site Map / Direct Links
| | | | | | | | | | | |
| --- | --- | --- | --- | --- | --- | --- | --- | --- | --- | --- |
| Cameras Other | | Techniques Site Features | | Blogs | | More Articles | | Columns eCommerce | | News |