JOBO GIGA One Ultra Image Storage Device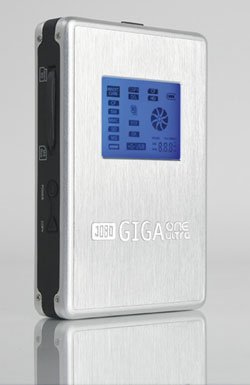 JOBO AG has announced the new GIGA one ultra portable image storage device featuring an ultra quick download speed of up to 5.47 MB per second (more than twice as fast as the JOBO GIGA one) and 1 GB of data in about three minutes. Available in four hard disc capacities up to 200 GB, the new JOBO GIGA one ultra supports all popular media card types, including SecureDigital High Capacity (SDHC).
The new PC and Mac compatible JOBO GIGA one ultra is available in four hard disc capacities -- 40 GB, 80 GB, 120 GB and 200 GB. This new unit accommodates all popular media cards featuring slots for CompactFlash (CF) I/II, Microdrive, SecureDigital (SD), SDHC, (Memory Stick) MS, MS Pro, MS Duo, and MultiMediaCard (MMC). In addition, the GIGA one ultra can store digital data in popular file formats such as RAW, JPG, TIFF, MP3, doc, xls, ppt, etc. And if the user chooses to do so, this unit is capable of deleting all data from a user's memory card via the GIGA one ultra once file transfer is confirmed.
The new GIGA one ultra is USB 2.0 compatible, features a battery Status indicator, energy-saving function, large 2" LCD screen, a sturdy aluminium casing, and covered media card slots for protection against dust and dirt -- an ideal feature for photographers that spend a lot of time outdoors. In addition, the new GIGA one ultra's LCD screen clearly displays the amount of hard drive disc space available as well as the status of every download. This compact unit measures 4.5(L) x 3.1 (W) x 1 (H) inches.
Available at the end of October 2007, the GIGA one ultra will be offered with four different storage capacities -- 40GB, 80GB and 120GB and 200 GB and U.S. retail prices are expected to be $149, $199, $229, $329 respectively.
Web site: www.jobo.com
Site Map / Direct Links
| | | | | | | | | | | |
| --- | --- | --- | --- | --- | --- | --- | --- | --- | --- | --- |
| Cameras Other | | Techniques Site Features | | Blogs | | More Articles | | Columns eCommerce | | News |