Interfit– 5 In 1 Reflector Kit
Interfit is pleased to announce the arrival of a simple solution for handling the remarkable qualities of reflected light out in the field or in studio environments.
The new 5 in 1 reflector kit is available from November 2007 and contains the best selling INT265 42" 5 in 1 reflector, plus a newly designed reflector bracket and an air cushioned lighting stand.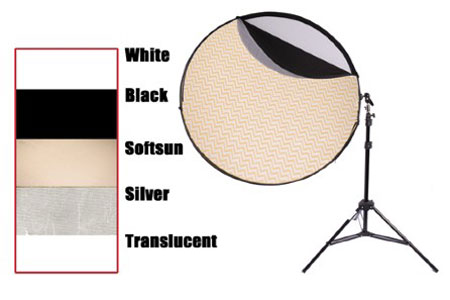 The 5 in 1 reflector is a valuable piece of kit for all types of photographers wishing to explore the qualities of reflected light on the subject matter. Ideal for Studio based photographers and social photographers on the move.
5 in1 reflectors are ideal where space is paramount. The ½ f~stop Translucent reflector is easily converted by a zip on overlay sleeve which offers four additional surfaces to be used: Soft-sun, Silver, Black, and White. The Soft sun, Silver and white surfaces fill in reflected light in to the shadow area by up to 1 F~stops whilst the black will detract up to 1 & ½ F~stop to improve contrast in the shadow areas.
By using the included arm and stand the reflector can be positioned in almost any position enabling the photographer to concentrate on the job in hand without the need of an assistant holding the reflector in place.
The INT273 will be available in one handy package from Interfit main dealers from November 07. Retailing at approx $89.99, offering a considerable saving when purchasing separately.
Further information will be available on the Interfit Website www.interfitphotographic.com.
Site Map / Direct Links
| | | | | | | | | | | |
| --- | --- | --- | --- | --- | --- | --- | --- | --- | --- | --- |
| Cameras Other | | Techniques Site Features | | Blogs | | More Articles | | Columns eCommerce | | News |