Casio Exilim EX-H20G; Where Have You Been?
The new Casio Exilim EX-HG20G (list price, about $350) is a pocket size camera that is a traveling companion for those who like to see where they've been. Some examples: during my test with the camera we turned down a dirt road and "got lost" in the back areas of Arroyo Hondo, NM. We saw various side roads going this way and that, roads that weren't on any map we had in the car. We shot a few pictures with the H20G and later plugged the images into Aperture 3.1 in our MacBook Pro, used the Places feature and voila, we saw exactly where we had been and where those back roads led.
The pocket-size Casio H20G sports maps, a memory for places and a GPS tracker that even records locales indoors.
Later, we hiked along some trails in the lower Taos Canyon near where the Rio Pueblo and Rio Grande converge and found some petrolgyphs and old markings etched in rocks above the gorge. We photographed them and later shared their location with friends who had similar interests in these markings. And, being at work on a photo guide to the area, now we can reshoot all our locales, many of which are well off road and the beaten track, and share their exact locales on a topo map, in addition to the rough maps we had previously drawn that challenged our highly amateur cartographic skills.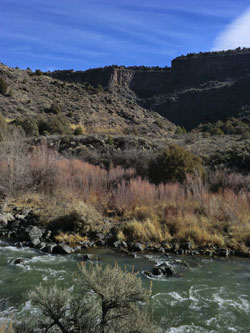 The camera is capable of delivering reasonably sharp, rich images, thanks to its 14.1MP sensor, a vibration reduction system built in and a host of optional scene modes. The 24mm (4.3mm actual focal length) equivalent angle of view is excellent for many travel shots.

One of the "Best Shot" (Casio's name for scene modes) options is "slide panorama." All you need do is choose the scene and move the camera across the horizon and watch as the camera records the panorama. You can choose direction as well as orientation, and record locale as well.
The fascinating part of the GPS feature in the H20G is what Casio dubs "hybrid-GPS. Many GPS devices will quit recording location when you go inside, say into a cathedral or museum as you travel, and some we've worked with will not even allow for signals in the canyons of New York. According to Casio, the camera will not fail you in those instances because, and we quote, "even if no signals are received from GPS satellites when indoors, the system consecutively tracks the user's location by employing an original algorithm using a three-way accelerometer and a three-way direction sensor. When the user goes back outside, the system automatically updates the positional information of the indoor location based on the exact location determined by GPS reception. Even when the camera is powered off, the GPS system continues to search for satellite signals at 10 minute intervals." In fact, this worked quite well when photographing the new wing of the Harwood Museum in Taos. The "pin" showed up on the interior shots and located the museum on the Aperture Places/Google map.
After loading images into Aperture (other GPS software programs work as well) and selecting Places you get to see exactly where you made photos. Here's the topographic setup in Places showing the photo was made at the conjunction of the Rio Grande and Rio Pueblo River south of Taos.
Gathering GPS data is simple. The first step is getting and verifying a GPS signal. In the Setup part of the menu choose GPS, then make sure that the signal is being received by the camera by noting the GPS icon on the rear monitor. Then hit the Record menu and choose "Record Lat/Long" and Set, and the coordinates will be recorded for stills and movies you make with the camera. In addition, you can have a place name inserted in the data as well. The camera will suggest a name that matches as closely as possible the coordinates displayed (Casio says there are "a million" in memory) and will place same in the data for you. (You can also choose to have no name indicated as well, which is a good thing when in a sparely annotated area.)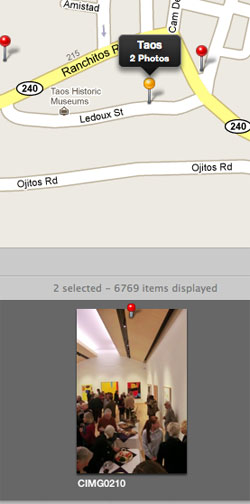 Many cameras with GPS units fail when brought indoors; indeed, a recent GPS camera I tested couldn't even map streets in New York City due to the tall buildings blocking the signal. Not the Casio—using "hybrid" GPS tracking it showed the exact locale of the new wing of the Harwood Museum in Taos in this shot made during the opening. In fact, this is done by tracking the last locale prior to heading indoors. See text.
And in a feature that reminds us of the old "Kodak Picture Spot" in National Parks, the camera memory even displays spots on maps of suggested "photogenic spots" when you are in certain areas. In Taos the camera chose the Ranchos de Taos Church and even showed a front shot of the building. It is indeed a photogenic spot photographed by the likes of Strand, Adams and even, we recently learned, Cartier-Bresson.
While the camera does allow you to access map data stored in camera memory, it is not very detailed in some of the rural areas in which we tested the camera, though they are better in places like New York and larger areas of population. But the data allows you to access very helpful maps in programs like Apple Aperture and, with iLife11, iPhoto. Other programs offer similar functionality with the data the camera records with the image.
This alone might convince those who want a handy, small camera that records location on the journey that the Casio fills the bill. Many folks I showed the camera to, especially those who are into, for example, mapping petroglyphs, wanted one right away.
You can set the cameras as high as ISO 3200, although there is a price to pay in terms of noise. But it's there if you need it, as in this handheld nighttime shot on Taos Plaza exposed at f/3.2 at 1/20 sec at ISO 3200.
There are some pluses and minuses. On the positive side there's a 10X zoom lens that makes for great travel snaps starting at the equivalent of 24mm, a built-in image stabilization function for when you venture into the higher realms of zoom, a slide panorama function that works quite well, a host of scene modes for those inclined (this is essentially a snapshot camera), the ability to record at 14MP (overkill on this but there if you want it), HD movie at 30 fps and macro capability as close as 3 inches. Plus the location data can be used on movie files. It's pocketable and the battery seems to last a good while.
On the minus side, the camera shoots JPEG only and the direct download cord supplied only seems to work with Windows. Having a Mac I used the download SD card slot, so no sweat. The camera is compact enough but the battery charger is bigger than the camera and only plugs in with a large extension cord, doubling the bulk required. It seems to us that Casio should follow the lead of some makers and have an integral plug charger as this kind of large charging device pretty much defeats the purpose of having a small, handy camera along on a trip. And perhaps the biggest problem is that the only way to view and compose is with the 3" monitor, fine for many scenes but pretty much unusable in very bright conditions. It's a drag to have to approximate framing.
All in all I'd score the Casio high on functionality when it comes to doing the GPS tasks, good on image quality and flexibility and poor on usability in bright light. If you can live with that one Achilles Heel, the Casio EX-H20G is a handy travel and tracking device.
EX-H20G Specifications

File Format Still images: JPEG (Exif Ver2.3), DCF2.0, DPOF
Movies: MOV format, H.264/AVC, IMA-ADPCM (monaural)
Recording Media: 14.5MB* built-in flash memory, SD Memory Card, SDHC Memory Card, SDXC Memory Card compatible
* Built-in memory capacity after formatting.
Number of Recorded Pixels Still images: 14M (4320x3240), 3:2 (4320x2880), 16.9(4320x2432), 10M (3648x2736), 6M (2816x2112), 3M(2048x1536), VGA(640x480)
Movies: HD: 1280x720 (30fps) / ST: 640x480 (30fps)
Number of Effective Pixels: 14.1 megapixels (/million)
Image Sensor 1/2.3-inch square pixel CCD_Total Pixels: 14.48 megapixels (/million)
Lens Construction: 11 lenses in 10 groups, including aspherical lens
F-number: F3.2 (W) - F5.7 (T)
Focal Length: F=4.3 - 43.0mm
35mm Film Equivalent: (Approx. 24 - 240mm equivalent to 35mm film)
Zoom Optical Zoom: 10X optical zoom, 15X Single SR Zoom, 4x digital zoom (12 times both with optical and digital zoom)_159.4X maximum digital zoom (in combination with HD Zoom, VGA size)Focus Focus Type: Contrast Detection Auto Focus
Focus Mode: Auto Focus, Macro, Super Macro, Infinity Mode, Manual Focus
AF Area: Intelligent, Spot, Multi, Tracking

Focus Range
From Lens Surface Auto Focus: Approx. 6 in. ~ Infinity (W)
Macro: Approx. 3 in. ~ 19.7 in. (First step from Widest Setting)
Infinity Mode: Infinity
Manual Focus: Approx. 6 in. ~ Infinity (W) (Range is affected by optical zoom. )
Exposure Exposure Metering: Multi pattern, Center Weighted, Spot by CCD
Exposure Control: Program AE
Exposure Compensation: -2EV to +2EV (in 1/3EV steps)
Shutter Type CCD electronic shutter and mechanical shutter_Shutter Speed Auto: 1/2 - 1/2000 second_Shutter Speed Night Scene: 4 - 1/2000 second_(May differ according to camera settings.)Aperture: F3.2 (W) ~ F7.5 (W)_(F7.9 is the aperture when an ND filter is being used.)
White Balance: Auto WB, Daylight, Overcast, Shade, Day white Fluorescent, Daylight Fluorescent, Tungsten, manual WB

Sensitivity
(SOS/REI) Still images:Auto/80/100/200/400/800/1600/3200
Movies: Auto
(SOS: Standard Output Sensitivity. REI: Recommended Exposure Index)
Self-Timer: 10 seconds, 2 seconds, Triple Self-timer
Flash Mode: Auto, Flash off, Flash on, Soft Flash, Red eye reduction
Built-In Flash Flash Modes: Auto, Flash off, Flash on, Soft Flash, Red eye reduction
Normal: Approx. 7.9" - 11.4' (W)
Approx. 1.6' - 6.2' m (T)
* Range is affected by optical zoom.
Other Recording Functions: CCD-shift image stabilization, GPS, BEST SHOT, Premium Auto, Dynamic Photo(Play mode only)
Monitor: 3.0 in. TFT color LCD Super Clear LCD 460,800 dots (960 x 480)
Viewfinder: LCD monitor
Timekeeping Function Date and Time: Recorded with image data On-image Time Stamp function
Auto Calendar: To 2049
World Time: 162 cities in 32 time zones City name, date, time, summer time
Input / Output Terminals: USB port / AV output terminal(NTSC/PAL), HDMI™* output(Mini) **_USB: Hi-Speed USB compatible_* Range is affected by optical zoom._**May differ according to camera settings
Microphone Monaural
Speaker Monaural
Power Source: Rechargeable lithium ion battery (NP-90)
Power Consumption: N/A
Dimensions: 4.04"(W) x 2.66"(H) x1.13"(D)
Weight: Approximately 7.62 oz (Including Battery and Memory Card)
(When using Panasonic Pro High Speed 1GB SD Memory Card.)
Approximately 6.07 oz (Excluding Battery and Memory Card)

Specifications subject to change without notice.